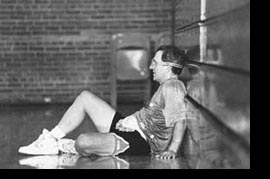 Joe Versus the Varsity
Associate Professor of Biology Joe Pelliccia (above) has a recent National Science Foundation directorship to his credit. But watch him pound up and down the court at noontime, and you can tell he might forgo further professional honors if he could once -- just once -- suit up for a college game and pump fake an opponent out of his high tops.
Pelliccia actually came close to experiencing collegiate competition in 1996.
That year, Jim Murphy's women's basketball squad went 17-7 despite a roster of only eight players. In preparing for an anticipated ECAC tournament bid, Murphy couldn't even run a five-on-five scrimmage with his low numbers. So Murphy invited Pelliccia and an off- campus noontime regular to round out the scrimmage team. Murphy recalls his players doing well against the two men, who he said, "got winded quickly."
"It was a lot of fun because I got to see what a college-level practice was like," Pelliccia said. "It was great to play with really good players like Amy Taylor '99, Colleen McCrave '99, and Sarah Bonkovsky '97."
Marc Glass '88