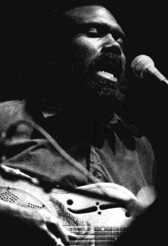 Contrasted to B.B. King's splashy entrance later that evening -- he emerges on stage in a sequined tuxedo, accompanied by the bluesy, electric fanfare of his
band -- Corey Harris strolls onto the dark, empty stage carrying only an acoustic National steel guitar. He settles his six-foot-plus frame into a single metal folding
chair. Bathed in a red-orange spotlight and wearing a red shirt with yellow sunflower prints, Harris greets the Portland, Maine, audience: "Good to be Down East, y'all."
Flaying the guitar strings, he begins to play. The brass slide on his little finger flashes up and down the guitar neck in the Mississippi "bottleneck" style. He sings and pounds out a beat with his foot that shakes the risers and reverberates to the plywood floor, which covers the arena's ice-skating surface beneath. Twenty-five minutes into his set, he's bathed in sweat. By the time he begins Tampa Red's erotic "Sweet Black Angel" ("I've got a sweet black angel;/ love the way she spreads her wings/ When she spreads her wings around me, I get joy in everything"), the audience has long forgotten the chill of the ice below their chairs.
Acoustic Delta blues? Electric Chicago blues? Sorry, but the usual cold-weather attraction in Portland is minor-league hockey -- that fast and aggressive spectacle on ice -- played by the beloved Pirates at the downtown Cumberland County Civic Center. Being a minor-league sport, the game isn't the only attraction. Fans are also treated to a cacophony of noise and gimmickry, like frozen-turkey bowling, rock-music riffs, and miniature blimps that whiz around the arena.
But on this cold mid-November evening, the civic center takes a break from its frenetic regular tenants, who are on a road trip in the Canadian Maritimes. Blues music, a tradition rooted deep in the experiences of the South, is on tap tonight, courtesy of two musicians working in divergent traditions: one legendary -- electric Chicago bluesman B.B. King, whose private dressing room this night reads "American Hockey League Referees Only" -- and one budding, opener Corey Harris, an acoustic blues artist by way of Bates College, Class of 1991.
At this point in a Corey Harris story, and many have been written the past two years about the acclaimed blues musician, it would be obligatory to mention his youth, twenty-eight, and his place in the acoustic blues canon, which is smack dab in the middle of an immutable tradition forged by men who banged out the first blues songs eighty and ninety years ago. "Harris has gone back to the roots of blues," reads one typical review, "back to when it was performed... by people like Charlie Patton, Mississippi Fred McDowell, and Robert Johnson." Another reviewer notes that "Harris's voice carries the weight of three generations of legendary bluesmen and their ancestral bloodlines."
"They read a manual before they write articles on me," laughed Harris, his speaking voice relaxed and velvet smooth, but with a hint of the heavy, hammering edginess that emerges in concert. Five months after opening for B.B. King in Portland, Harris is back in Maine again. He's at Bates, between Ohio gigs, to perform at a Founders Weekend concert in the Gray Cage.
Harris acknowledges the public perception of blues as "an old person's music." He knows that reviewers constantly remark on his age, while no reviewer would dare emphasize the age of an under-thirty rock musician. But then again, Harris has staked out the oldest blues style, one that hasn't changed much since it emerged from the flat, hot counties of the Mississippi Delta nearly a century ago. In his landmark book, The Bluesmen, Samuel Charters explained the forces that brought about the birth of the blues: "There was the heavy concentration of [African American] field workers, an almost total isolation from the white society, and a strongly developed tradition of rhymed work song material.... The roots of the Delta blues, with their half-remembered elements of African song and the work rhythms of the years of slavery, go as deep within the singers as the roots of the cotton in the hot, dusty fields go deep within the Delta soil."
Black families of the Deep South who moved to northern cities after World War I created a commercial market for the traditional Delta blues, and record companies responded by seeking out these acoustic blues singers. All but forgotten during the late forties and fifties, some of these bluesmen reemerged in the 1960s at folk festivals attended, ironically, by young whites. But by then, the performers were old men. Charters describes Son House's poignant return to the stage at a 1965 folk festival in New York City: "His face -- still thin and handsome despite the lines etched by the worries and disappointments of sixty-three years -- looks from one to another
of the young white faces pressed around him, unsure of their attitudes toward him, unsure of their response
to his music."
Into this tradition has stepped Harris, graduate of a suburban Denver high school and holder of a Bates anthropology degree. He understands the sometimes quizzical reaction to his choice of music. "I think a lot of that has to do with many of the people who are the blues-buying public, who go to the festivals, buy the records, buy the magazines," he said. "Many of them became acquainted with blues artists who were quote being rediscovered unquote in the sixties at folk festivals. But you know, their music is really timeless and that whole music is timeless. The blues musicians that people were aware of in the sixties, they were cutting those same songs when they were nineteen, twenty. So it was definitely a young person's music at its inception."
Harris makes the point that while acoustic blues is heavily traditional, he's not locked into the style. He connects with the blues because it has enabled him to explore his own past. "What I play is roots music. I'm grounded very heavily in blues but I let everything influence me from what I hear today to what I'm gonna hear to what I have heard. I try to be as open as I can."
In 1995, Alligator Records of Chicago, the pre-eminent American blues label, released Harris's debut CD, Between Midnight & Day. It was a first for Alligator too: never before had the label signed an acoustic act in its twenty-five-year history. Harris's debut CD brought him mainstream attention and a slew of honors, including 1996 W.C. Handy nominations as Best New Artist, Acoustic Blues Album of the Year, and Acoustic Blues Artist of the Year. Harris has since released another CD (last winter's Fish Ain't Bitin', which features more of his own songs as opposed to covers of acoustic blues standards) and rarely stops touring. He was in France in late April, with B.B. King again in Japan in May, then back to the States for a series of summer blues festivals. "I'm always on tour," he said. Besides King, he's toured with Natalie Merchant on the West Coast. Merchant first heard about Harris through another glowing review, heavy with canonic comparison, this time in the New York Times: "Corey Harris plays the blues as though he's been living in the Delta since the turn of the century." Merchant bought the CD and liked what she heard.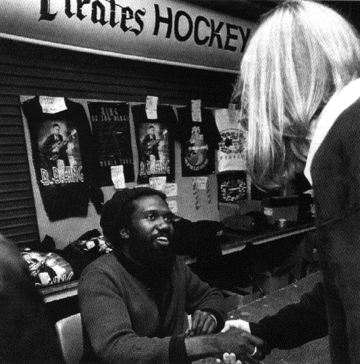 Bluesman in Hockey Town; seated beneath a Portland Pirates hockey logo, Harris greets fans and signs CDs following his Portland performance.
Recent touring partners have also included the Dave Matthews Band. "It was cool, because I was friends with Dave before the tour; my wife has known him for about nine years," Harris said. "So I was friends with the band before I ever opened for them, so it was really like I was just going to hang out for a couple days with some people I knew."
Corey Harris grew up with music the way some kids grow up knowing a Ford engine. His mother remembers attending the Denver Symphony Orchestra when she was pregnant with Corey. "He was always wiggling in utero, but it seemed to be so much more prounounced that night," says Fannie Fiddmont. Originally from the South, she had a record collection heavy with the blues of Z.Z. Hill, Lightnin' Hopkins, and B.B. King. Professional musicians dot his step-
father's side of the family (Harris's father died when he was two years old). While at Arapahoe High School in Littleton, Colorado, his musical training was decidedly mainstream. He played trumpet and baritone and marched in an award-winning band like a zillion other kids. Acoustic guitar, however, slowly won him over, and soon he was hitching and sharing rides to Boulder to make some money playing on street corners.
Harris landed at Bates partly through the suggestion of his mother, a vocational home economics teacher in the Denver schools. She had seen a Bates viewbook in school and was intrigued by the description of a small Maine college in a French-Canadian city. She and Harris visited during his junior year "and he fell in love with the place," she recalls.
It might be wistful overstatement to say that Harris's Bates experience was the seminal moment in his blues education. He never took a course in the music department, and he's also quite candid about the difficulties sometimes faced by students of color on the Bates campus. On the other hand, Harris has a genuine fondness for Bates and points to a few key Bates moments in his musical growth.
He takes pains to say that Bates provided the channel for him to explore his musical roots.
As far as his Bates musical education, Harris remembers the play staged by Buddy Butler, a visiting professor of theater during Harris's student days. "He had this play called The Song of the Lusitania Boogie -- `Lusitania' being the colonial name of Angola -- and he hired musicians from all over: a drummer, a couple horn players. I played guitar and sang," he remembered. "It was an inspiration to me, and I learned a lot just playing beside the other people. The ability to cooperate with other people on a musical project, at that level, really thrilled me."
Harris, who was a regular performer at Bates coffee houses, remembers going down to the audio library in Ladd and checking out the blues collection. Reviewers who marvel at Harris's command of the traditional blues idiom might be surprised to learn that Harris learned quite a bit sitting before a library turntable, headphones on, listening to, say, Texas bluesman Blind Lemon Johnson, recorded in the 1920s, singing "Rabbit Foot Blues," or Delta bluesman Robert Johnson singing "Dead Shrimp Blues" in a recording from the 1930s. "Learning how to play traditional blues is a challenge," notes William Matthews, Bates professor of music, "because the music really is from the beginning of recording history."
"I was listening to old blues records in Ladd whenever I had some time, or jazz or folk or whatever," Harris said. "It's helped to inform what I do. I always pursued music on my own. I never took any music courses, but definitely being at Bates, in the environment that I was in, and
being with other musicians and hearing who influenced them and who they were into -- just like carpenters
get together and talk shop -- that influenced me. It opened my ears to new things."
Attending a mostly white suburban high school in Colorado made the transition to Bates easier on Harris. Still, the racial insensitivity in and around Bates was sometimes hurtful. There were larger problems, like epithets hurled while walking downtown. And there were smaller irritations. Elizabeth Eames, associate professor of anthropology and advisor to Harris on his senior thesis, remembers Harris, who was wearing his hair in small dreds, telling her that people on campus were saying he looked like singer Tracy Chapman -- the comparison made, of course, because Chapman was likely the only African American in small dreads known to Bates students.
For each negative incident, "a lot of positive things always happened as a reaction," Harris said. "But it was an ongoing battle. It was always like, OK, well this happened, and well they've had a forum or something to address it, and then everybody feels good, and then something else happens. It's definitely like there's something behind the outbreaks. It's almost like you have a cold that manifests itself as a cough here, and then the cough goes away, then you're sneezing. And then you have hives. You wonder, `What's wrong with me?'"
But sometimes, Harris was dismayed by the way black students complained about Bates's racial environment. "It was sad to see their reactions, because it seemed to just put peroxide on a gushing wound," Harris said. "We would get in Amandla! [the campus African American organization] and have heated discussions. But I just always
felt that if I'm gonna come to Bates, well, I have to do my best and just fight for it. I mean, that's just the way I
was brought up."
"Corey had, at Bates, a very deep and complex understanding of racial issues," Eames said. "He knew that it wasn't a knee-jerk thing, not all good or all bad, nor that there's only black and white. He understood coalition politics. He came to Bates with it, and he grew into it."
"I would have problems every now and then in Lewiston, people yelling things at me, but that happens everywhere," Harris said. "People talk about the Bates bubble, but
Bates is connected to the rest of the country and it is part of the politics and the history of this country. I've been to Europe and people do the same messed up stuff that I
deal with over here in America. You just have to fight for what you think is right. Whether it be with your pen or just by working to help other people or to educate others or whatever, but you definitely have to fight."
Bates also served as a nexus in Harris's effort to connect with his own heritage. His growing interest in the blues was one manifestation of that search. "That's my heritage. I feel it and I know it. My whole family was from the South. When we would go to visit family down home, it connected me at any early age to where I was from. And just in my musical search, I realized a lot of the music that I liked was from the South."
But acknowledging his Southern roots was just a way station in Harris's journey to his past. In his junior year, he studied in France for a semester and took a side trip to Cameroon. That trip sparked both academic and personal connections. He returned to Lewiston realizing that
Bates was the tool to help him continue his exploration in both areas.
"When I was in Cameroon, there was just one school. That school had a graduate school in it and then that was about it," he said. "In Cameroon, a lot of kids couldn't even get into elementary school because there weren't enough chairs. When I came back to Bates from that, I decided that I was going to get from Bates as much as I could and
then move on, and use it to better my life. Those precious four years go by like that; they just fly by. I managed to get what I needed out of Bates. Even though Bates is far
from Africa, Bates brought Africa to me. Bates made it so I could just go."
His senior year, Harris wrote his thesis on "Pidgin and Power in Initial Contact Situations" and used that research to apply -- and win -- a prestigious Watson fellowship to return to Cameroon to study pidgin, the Creole trade language.
"I got a lot more serious about a lot of things over there," Harris told Offbeat magazine. In Cameroon, Harris saw the connections among language, music, culture, and history. "It really impressed me how strong tradition is in every aspect of life over there. And it got me to thinking about, well, what is the root of things for myself that is readily accessible through me? And, of course, it was the blues."
When Harris returned from his Watson fellowship, he taught in rural Louisiana with the Teach for America program, but music kept drawing him away. On weekends he'd trek to New Orleans to play guitar in the French Quarter. After his teaching year, Harris struck out for the road, living out of his car and playing whenever he could. Larry Hoffman of Living Blues magazine heard him play in Helena, Arkansas, and together they produced a recording session in 1994. Alligator Records picked up the finished master a year later.
And now he tours with B.B. King -- the first person Harris ever saw in concert. "I went up and shook his hand from the stage and he gave me a guitar pick with his insignia on it," Harris told a Living Blues interviewer for a cover story last year. Harris played with the pick until the insignia wore off. "Then it looked like all my other picks and I couldn't find it again."
Of course, touring "with" B.B. King is somewhat of a misnomer. The first time they toured together, Harris followed the B.B. King convoy -- two tour buses and a merchandise truck -- in a friend's truck. The second time he was in a rental car. Though the two performers have divergent styles -- Harris solo acoustic Delta blues, King electrified Chicago blues backed by a full band -- and are at different stages in their careers, they've forged a close relationship. "After the show, I'd just go and hang with him in his dressing room and just talk," Harris said.
Other times, Harris got to see the demands placed on a legendary performer. "I'll go to his bus and he'd be very busy. He's like, `Sit down and have a drink.' I'll just sit there and then a million people will come in and shake his hand and want him to sign all this stuff. And I'm just sitting there looking."
Although Harris says he was wise to the ways of the road before his first tour with King last fall (eleven dates in thirteen days), he appreciated the guidance King offered during the tour. "He didn't know me, so I'm sure he just felt like, `Let me tell this guy something. He's young, standing there trying to play that guitar.' He just was like just giving examples from his life. He used to hang out with Charlie Parker, Bird you know, and he was just saying how they were really good friends and it really hurt him so much when Bird died, you know? When you're on the road, the road will punish if you try to bring some mess to it, if you try to bring self-destruction or negativity. You have to maintain your good health. And just live for your performance."
Harris lives for his music, the conduit that took him back to his roots and strengthened his sense of self.
"I'm real thankful for music. Not that my life was in jeopardy, but it did save my life in a sense. I mean, it saves my life every day and it means something when I can go to a place and buy some food and know that I didn't have to dig a ditch for it. I didn't have to wash clothes all day for a dollar-fifty a day like my great-grandma did. I realize that I'm blessed, you know? Feels good."
---