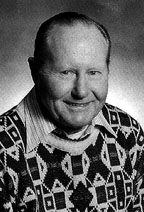 "My four years at Bates gave me the grounding to do what I have done since," says Richard Trenholm '52, who works actively for peace through the World Federalist Association (WFA). The WFA, he explains, is a national, nonprofit membership organization "that looks at the world as one society that embraces all of humanity in all its diversity." It seeks to deal with global problems, but affirms the sovereignty of the nation-state in essentially internal matters.

At seventeen Trenholm quit high school to join the Navy before he was drafted into the Army. His shipboard service in the Pacific, where he witnessed kamikaze attacks and the death of buddies and then learned of the Hiroshima bombing, was a disillusioning experience. It increased his doubts about "the value of what we were doing."

He returned home to finish high school and was among the first group of veterans to attend Bates under the GI Bill. As an older, more mature student, Trenholm didn't hesitate to challenge what he called "childish" -- freshman hazing, bibs, and caps. "I thought nothing could happen [at Bates] if I wasn't in it," he adds. Indeed, he participated in a variety of activities from theater and student government to class president and Ivy Day toastmaster. A member of the Modern Dance Club, he earned the reputation as "twinkle toes" on the dance floor, "mimicking Fred Astaire."

In 1947 Trenholm became a charter member of the United World Federalists and organized a World Government Club at Bates with "good support from the students." He also served on the Public Affairs Committee of what was then called the Christian Association.

His activities did not go unnoticed by some folks in Lewiston. "It was reminiscent of McCarthyism," he noted when a member of the local veterans group called him a "starry-eyed Bates student" -- and a communist. Unwilling to ignore the slur, Trenholm found the vet's address, rang the bell, and was invited into the living room. There the "starry-eyed" student learned that his cigar-smoking host was just "running for office and needed the votes!"

A teacher to the core, Rich Trenholm earned a master's degree in history at Boston University, then taught at the New Hampton School in New Hampshire. "I left there," he says, "before the students started to call me `Mr. Chips' and carve their names on me." Then, while assistant principal at Minnechaug Regional High School in Wilbraham, Massachusetts, his teaching made a lasting impression on at least two of his students. One became a national student leader of the World Federalist Youth Organization, and another today is the national director for WFA in Washington, D.C. -- "one of my most significant accomplishments."

Subsequently, as assistant principal in Northfield, Massachusetts, he kept in touch with students as director of the career service. And, in his final teaching position, he was the only social-studies teacher at the Whitingham School in Jacksonville, Vermont.

Throughout Trenholm's career, his goal has always been to help make the United Nations "a workable, limited, democratic world government." In the mid-eighties he was a member of the Peace Education Committee at Traprock Peace Center in Northfield, Massachusetts, before he joined the Core Group there.

Trenholm also spends time each month at the Kennedy Library in Boston, with a group of about four hundred people who represent some eighty peace organizations of the Coalition for a Strong United Nations. The coalition, a grassroots network, includes many religious faiths, corporations, libraries, educational institutions, and third-world scholars -- all of whom review the role of the United Nations as it now functions and how it could function more effectively.

Although he has retired from teaching, Trenholm keeps right on with all the many projects that have captured his interest and energy since those years at Bates. He has been a substitute teacher, works at a homeless shelter, studies piano, and has kept alive his memories of Robinson Players through theater activities -- once directing Our Town and playing Monty Woolley's role in The Man Who Came to Dinner.

At the Traprock Center, he now chairs the Franklin County Chapter of the United Nations-World Federalist Association, which meets each month. They work toward educating the community to recognize that it is time to establish a worldwide structure based on enforceable international law. He hopes "the idea will spread that the world must be governed as well as our cities and states."

By Ruth Rowe Wilson '36, who thanks Leslie Fraser for the use of quotations in her profile of Richard Trenholm that appeared in the Traprock Newsletter of March-April 1995.