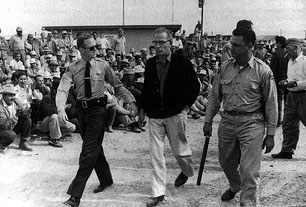 Authorities arrest Clive Knowles '33 (center) during the Imperial Valley labor action in 1961.
The story of Clive "Joe" Knowles '33 is a simple one. A conservative adolescent attends a small college in Maine and becomes a Unitarian minister. Forced from the pulpit because of his political views, he metamorphoses into a radical labor organizer. Upon retiring, he works for five years as a ski instructor before founding and running a writers' workshop.
You wouldn't be the first to find such a saga compelling. Ask the Hollywood producer who optioned Knowles's 702-page autobiographical manuscript for $2,500. "Why are you interested in this?" he asked about his unpublished tome, Passing Through: A Yankee Radical's Journey. "Because it's a white `Roots,'" the producer answered.
Or ask the FBI. The agency has pursued a decades-long fascination with Knowles; he subtitled his work: With the FBI Trailing Along. "My FBI file runs to 485 pages," reported Knowles, a combat veteran of World War II who, through a Freedom of Information Act query, learned of his classification as "an internal security risk subject to custodial detention in the event of a national emergency."
A resident of Franklin, Maine, who winters in Sarasota, Florida, Knowles has always marched to the beat of a different drummer. Throughout his life, spanning the twentieth century, he has considered himself "to be out of step with the vast majority of my contemporaries. I was a radical and am a radical," he said.
It wasn't always that way. The son of an impoverished coal miner turned street peddler, Knowles arrived at Bates in 1929 on the heels of the stock market crash. He was a political conservative, the personification of the American Dream: poor boy goes to college.
A friendship with fellow student journalist Donald Smith '34 opened Knowles's eyes to the possibilities of socialism. "He was the first socialist who influenced me," said Knowles about his classmate, whose 1930 trip down South to provide humanitarian support to striking West Virginia coal miners inspired Knowles to develop an entirely new world view.
"It was a long process. It took two or three years," Knowles said of his political education. His Bates career was typical in many respects -- Knowles served an editorship of the Bates Student and played football -- but intellectually, he was moving further and further from the center. The College helped. Forever seared into Knowles's memory was the admonition delivered by Bates President Clifton Daggett Gray to Knowles and Smith after the two rented Lewiston City Hall for an overflow meeting of unemployed workers. The local newspaper had headlined its morning edition with reference to the Bates organizers. "Every man should be a socialist before he's twenty, and get over it before he's thirty," Gray told the two. Not so for Knowles.
He followed his senior honors thesis, "Resolved that the ethic of Jesus is directly opposed to the ethic of Capitalism," with an M.A. program in social ethics at the University of Chicago Divinity School, where he met fellow Bates alumnus Benjamin Mays '20.
In 1936, Mays, then dean of the Howard University School of Religion, invited Knowles, who had received a degree from the Harvard Divinity School, to teach. "That experience changed my life," he said. "Before that, I never had a conception of what was going on with blacks." At Howard, "I lived as a black since it was assumed by everyone that [to be there] you must be black. That experience and the subsequent years I spent as a union organizer in the Deep South taught me that my country was a long, long way from being the democracy it claimed to be."
Knowles found his way into the labor movement via the Unitarian Church, whose ministry he entered in 1937 when he accepted a position with the congregation in Gardiner, Massachusetts. After speaking at a union meeting where he delivered a fiery speech about the Wagner Labor Relations Act in the presence of a local reporter, Knowles met the wrath of the church's board of directors. Refuse public speaking engagements on controversial topics or resign, said the board. Knowles, with a wife and infant son to support, left. "One of my great convictions was that without democracy in the workplace there was none on the political scene," he said.
After six months of unsuccessful candidacies for positions with Unitarian congregations -- his radical political views proved unacceptable -- Knowles found employment as executive director of the Massachusetts Labor Nonpartisan Political League, the political arm of the Congress of Industrial Organizations (CIO). "The CIO was the first nonsegregated institution in the United States," Knowles said. "Nobody seems to remember."
Knowles followed his CIO tenure with a stint as an organizer with the United Farmworkers. "I was deeply involved with Cesar Chavez in the struggles of California farm workers in the 1960s to win a decent life for them and their families," said Knowles. Along with two attempts on his life during labor actions in Imperial Valley, including a shotgun blast through his windshield and a planned but aborted hit by Detroit mobsters, he faced relentless harassment by the FBI. Family members also endured scrutiny.
His former wife, Mary Gardner Knowles '34, had been hauled before the Senate Internal Security Committee during the McCarthy era. "Because she stood on her constitutional rights under the First Amendment, was sentenced to a six-month jail term and a $500 fine," Knowles said. Upon appeal, the decision was reversed.
His son, Jonathan, upon volunteering for the military in 1961, faced a merciless grilling by the Army, whose intelligence personnel interrogated him relentlessly about his parents' politics. According to Knowles, the investigators, furnished with information by the FBI, informed the younger Knowles: "Our interest is to fully clarify your association with your parents, your knowledge of their Communist Party affiliation, the amount of influence they had on your political thinking, and if they ever attempted to teach you Communist ideologies."
The experience embitters Knowles to this day. "I was shocked and am still angry," he said. "This is what the Nazis and Soviets did with their young. It's outrageous."
Yet Knowles continued to harness his outrage into constructive action. Between 1962 and 1974, he served as director of a California state Council of Carpenters, a nonprofit housing corporation that, in three years, built $20-million worth of housing for low- and middle-income families.
"Life takes many twists and turns," he said of his decision to become a ski instructor at Ski Apache Resort in Ruidoso, New Mexico, where he taught for five years until the age of seventy-five. Following his retirement to Maine, he established the Molasses Pond Writer's Workshop, now in its tenth year, for writers of both fiction and nonfiction.
Tethered to dialysis treatments for the last three years, Knowles maintains equal measures of energy and optimism. "This country began as a democracy of property owners that later produced the Emancipation Proclamation, then suffrage for women. It was a continent reserved for an experiment. In our historical process, there is a development of the emancipation of people. It's slow going, but it will pick up again. You can't live without hope."
He doesn't. "Nothing's going to slow me down until I drop."
By Phyllis Graber Jensen