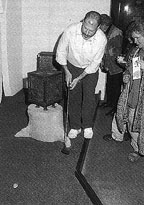 A visitor putts out of trouble on the Christopher Frost-designed miniature golf hole, part of an exhibition at the DeCordova Museum and Sculpture Park in Lincoln, Massachusetts, last year.

Miniature golf went highbrow last year at the DeCordova Museum and Sculpture Park in Lincoln, Massachusetts. Instead of windmills and loop-the-loops, this putt-putt course -- winding throughout the museum exhibition space -- featured contemporary installations by twenty-four regional artists, including Christopher Frost '88.

The exhibition, titled Strokes of Genius, was hands-on art: visitors could play the course, guided by a score card that described each hole and admonished players to "play gently and let faster players play through." Each hole was designed by a different artist or artists. Each hole had a name, such as treacherous number five, dubbed "Twilight Zone," an eerie night scene complete with spooky trees, bouncing laser lights, and mysterious glowing eyes. The more serious ninth hole, "Race Matters," examined race relations in America with an old golf photograph of a father, his friends, and their African American caddies.

Frost designed the thirteenth hole (pictured), called "Birdies." Players had to roll their ball through a cut-out image of a tree in a wall. The fairway was dotted with tree stumps, atop of which were metal cages filled with wax figures of small woodland animals. "All the images suggested an indictment of the environmental impacts of golf courses," said Michael Sockol, the museum's public relations director.

The DeCordova exhibition was a way of introducing contemporary art to the public by employing a very familiar medium. "Miniature golf modified a complicated, often exclusionary sport and made it easier for more people to enjoy," said Sockol. "Museums have discovered that the same principle applies to contemporary art. An artist-designed miniature golf course provides an intriguing environment to encourage all audiences to experience contemporary art."