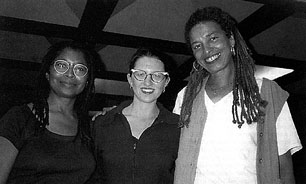 Last fall, U.S.-Cuba Medical Project coordinator Rachel Cohen '94 (center) was joined by author Alice Walker (left) and activist and writer Angela Davis (right) in a humanitarian aid mission to Cuba, delivering $5 million in medical supplies.
Little did Rachel Cohen '94 know when she graduated from Bates that a year later she would be in Cuba, shaking hands with Fidel Castro. Several months after her graduation, Cohen was hired as the coordinator of the U.S.-Cuba Medical Project, a nonprofit humanitarian-aid organization, based in New York City, dedicated to ending the U.S. economic blockade of Cuba. In September, she spent ten days in Cuba with a delegation of women -- led by Pulitzer Prize-winning author Alice Walker and professor, writer, and activist Angela Davis -- on a mission to deliver $5 million in medical aid to the Cuban Red Cross.
"The U.S. economic blockade of Cuba has been in place for nine administrations -- nearly thirty-five years -- and the U.S. government is completely isolated from the international community in its attitude toward Cuba," argued Cohen. "When the Soviet Union collapsed in 1990, the United States actually tightened trade sanctions and cut off subsidiary trade with Cuba, most of which was in food and medicines."
All Cuban citizens are guaranteed free, quality health care, said Cohen, yet material resources are now so scarce the system is difficult to maintain. "Basic supplies such as surgical sutures, syringes, antibiotics, and aspirin have to be imported from distant countries, and this is very costly. That's why the work that the Medical Project does is so important. We try to provide as much aid as possible by donating some of the medicines and supplies that are so desperately needed."
Global thinking is second nature to Cohen. From her fall semester in Ecuador as a first-year Bates student to her current position as coordinator of the U.S.-Cuba Medical Project, she has always pushed beyond boundaries -- both physical and psychic. "Living in Quito, Ecuador, had a powerful impact on my current work. The relationship between colonizers and colonized people both within and outside of the United States became a central theme throughout my studies at Bates," she said.
Political and social activism also marked her years at Bates. She coordinated the women's group on campus and was an active member of the Gay/Lesbian/Bisexual Alliance.
Among the Bates professors and administrators she mentions as important mentor figures are women's studies professor Christina Brinkley; rhetoric professors Charles Nero and Bob Branham; political science professor Leslie Hill; and art professor Erica Rand, as well as Martha Crunkleton, dean of the faculty.
"Martha is somebody I look up to tremendously," said Cohen. "Although she's an exceptionally busy person, she was always there during critical moments. She once told me that some things in the world are so magnificent that the human brain has trouble wrapping itself around them. That acceptance of the immensity of things and the beauty and pain of the world was always very inspiring to me."
Cohen also credits Christina Brinkley and Charles Nero for challenging notions of race, gender, sexuality, and all the complexities of identity in their lives and in their classes. "Not just the intersections, but the inter-relatedness of all those things. They encourage students to explore the multiple layers of meaning embedded in language and to relish the possibility of language, rather than to get stifled and frustrated by its mechanical barriers."
Reflecting on the personal importance of her September trip, Cohen believes that "North Americans have a distorted view of the Cuban government, of its leaders, of its people. I am very happy to have been given the opportunity to see for myself a place that has been totally demonized, not just by the U.S. government, but by the U.S. media. I also feel very privileged to have had the opportunity to meet with Cuban President Fidel Castro, who warmly welcomed our delegation to the Consul of the State late one evening."
Cohen encourages anyone in the Bates community who would like to become involved with the Medical Project, or any other organization in the country that disseminates information and educational materials about Cuba, to contact her. People can either call her directly at (212) 227-5270 or write her at the U.S. and Cuba Medical Project, 198 Broadway, Suite 800, New York, NY 10038.
Reacting to the February 24 Cuban downing of two civilian American planes, Cohen lamented the loss of life but expressed anger that "the U.S. government is allowing fringe, right-wing, anti-Castro groups in Miami, such as Brothers to the Rescue [the organization involved in the incident] to dictate U.S. policy toward Cuba. Now is not the time to bring new sanctions. Now is the time to negotiate, end hostilities, and normalize relations." -- Editor