Welcome to the homepage of the Bates College Men's Track & Field Team
Lewiston, Maine
Bates is not only one of the nation's top liberal arts colleges but also home to one of the nation's best track and field programs. We hope that you become better acquainted with Bates and learn more about our school and our program as you browse through the various pages on this site. This site is updated regularly, so it is a great place to stay on top of the most recent news in the world of Bates Track and Field!
CURRENTLY: indoor track & field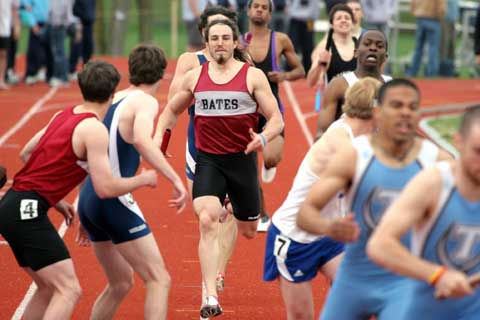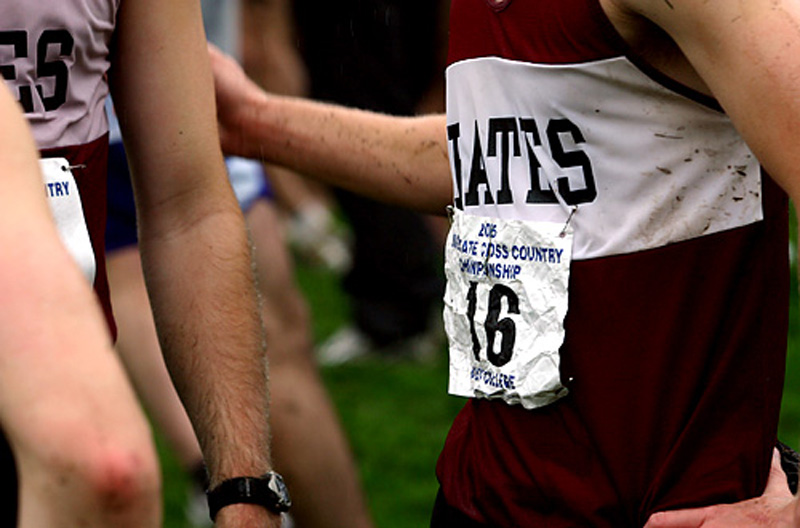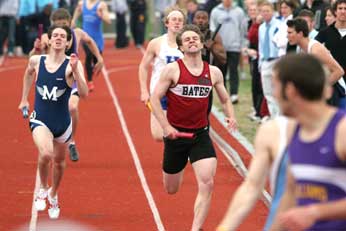 NEWS UPDATE (3/17/08)
Noah Gauthier, National Champion in the 35-lb Weight Throw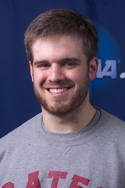 So yeah, the little guy did it.
Going into Nationals at Ohio Northern University, Noah was the fourth seed, and on his third throw of the day, he took the national title. His throw of 63-01.5 was the top DIII mark the entire season. This is something that Noah has worked for for over four years. He came to Bates with the mentality of eventually being one of the top weight athletes in DIII. He held himself to high standards and chipped away at his PRs at every meet and improved his technique at every practice. Noah has been the epitome of what hard work and dedication can result in. In addition to the National title, this was Noah's third All American honor. He earned won last season in the weight throw and another in the hammer in the spring. The following is from the Bates website and explains the meet in greater detail:
Gauthier (Amherst, N.H.) emerged as the victor in a back-and-forth battle with Defiance College senior Trevor Matuszak. The winning throw was his third of the day, a heave of 63 feet, 1 1/2 inches (19.24 meters) that is the best in Division III this season and exceeds Gauthier's previous personal best by 24 1/4 inches.

"It's sort of shocking, but this is my fourth time at nationals, and I guess I was just kind of comfortable for once," Gauthier explained by phone. "When I was warming up I felt at home for the first time, and it felt like it would be a good day."

Gauthier notched a heave of 18.35 meters on his second attempt to take an early lead, and knew at that point he was likely to place among the top four or five competitors in the 12-man field. "At that point, I could have the confidence that I wasn't going to mess things up, so I could relax a little," said Gauthier.

Matuszak answered with a throw of 18.95 meters to reclaim the lead after his opening-round throw of 18.09, but Gauthier came right back with the closest to perfect throw of his life. "I caught it real well, it felt perfect coming out of my hand, and I had good balance," Gauthier said.

Gauthier was joined by members of his family at the meet, although his brother Dustin Gauthier '05, also a former All-American in the weight throw, couldn't make it. Adding to the special atmosphere was the fact that Gauthier received his medal at the awards podium from his close friend, Bates interim coach Matthew Capone '07.

"That made it extra special, to be able to get it from him and to give him a big hug," said Gauthier. "I think he was as excited as I was."

Gauthier is the third Bates man to win the national championship in the weight throw. Jamie Sawler '02 did it in 2002, also at Ohio Northern University, in a facility record that still stands (64'01.75"), as did Billy McEvila '99 in 1998.It is the 14th men's track and field championship earned in Bates history. It is also the first individual national title won by a Bates athlete since May 2006, when Keelin Godsey '06 won women's hammer throw title and Will Boe-Wiegaard '06 claimed the men's tennis singles crown. With Gauthier's 10 team points, Bates finished in a four-way tie with Salem State, UMass-Dartmouth and Fisk University for 18th place out of 66 scoring teams at the meet.

"It's always fun to represent Bates on the national level," Gauthier said. "Everyone here knows Bates, and I had all these coaches asking about me, asking how (Bates throws coach Joe) Woodhead was doing. It's good to win this for the coaches -- Coach (Al Fereshetian), Coach Woodhead, Matt... They care as much as I do."
Results of the weight can be found here.
___________________________________________________________________________________________________
NEWS (2/23/08)
New Paul Hammond '82 Bio
This probably isn't new, but I just found it so I'm posting it here.
The Maine Running Hall of Fame website posted a great article on Paul "Wildman" Hammond '82 back when he was inducted into the MRHOF in 2002. The bio extensively discusses Paul's early high school years, his career at Bates, and all the way up through his current involvement with the Whirlaway team. I'm pretty sure that Paul has the record for most XC Alumni Meet wins, and has come to nearly every meet since he graduated. Definitely check out this great article.
The story can be found here.
___________________________________________________________________________________________________
NEWS (2/22/08)
Miley Takes Second in Pentathlon on Day 1 of DIII New Englands
Co-Captain John Miley finished in second place in the Pentathlon with 3406 points at the Division III New England Championships. The Championships began today with the pentathlon at Tufts and will continue through tomorrow. The rest of the team will join the pent guys at Tufts tomorrow morning. John set a PR in the hurdles with a time of 8.34 seconds. Freshman Brett Epler was 9th, and just 40 points outside of 8th overall.
"We're very happy with how we did today," said Head Coach Matt Capone. "Our guys are happy and we're already 8 points up in a very competitive meet."
Bates is currently second, as Tufts went 1-3-5 in the pent.
Seed lists/performace lists for the meet can be found by clicking here.
___________________________________________________________________________________________________
NEWS (2/16/08)
Bates Performs Well at Tufts Invitational
Highlights from today's co-ed meet at the Tufts Invitational #3 included Rich McNeil's second place finish in the Weight Throw, advancing him to a top 10 mark in the country for DIII. While the rest of the Bates community is on Winter Break, the track team will be hard at work in Lewiston getting ready for DIII New Englands back at Tufts next weekend.
For now, results can be found here. Also, Bill Jack has updated our Performance List, Qualifiers List, and Top Ten List. They can be found on the Schedule/Results/Lists page.
___________________________________________________________________________________________________
NEWS (2/9/08)
Bates Finishes 3rd at State Meet; USM Wins
Bates finished third tonight at the State Championships, held at Bowdoin College. USM won the meet with 174 and was followed by Bowdoin (148), Bates (132), and Colby (67), respectively.
Major news is that Noah Gauthier won the Peter Goodrich best in field trophy for the third year in a row, with his convincing wins in both the Weight and Shot. He threw 60-03.75 in the weight, which is currently the second farthest mark in the country for DIII.
Things started off well with a 1-4 sweep in the Weight (Gauthier, McNeil, Lopez, Murtagh), and Mark Liu in 6th. At the same time the Weight was going on, Monthe Kofos and Brett Epler finished fifth and sixth, respectively, with jumps of 40-09.75 and 40-02.75. The running events got off to a good start, with star freshman sprinter Ryan Quinn finishing 3rd in the 55m Dash prelims (6.78) and ultimately finishing 3rd again in the finals with a time of 6.69. In the 55m Hurdle prelims, Bates qualified John Miley (3rd/8.45), Epler (4th/8.49), Erik Born (5th/8.50), and Kofos (8th/9.14). Epler went on to take third in the finals with a time of 8.46, and was followed by Miley in 4th (8.49), Born in 6th (8.54), and Kofos in 8th (9.08). It was great to have to many Batesies in both the 55 Dash and Hurdle finals.
The mile was next, and both Bates competitors, Andrew Percy and Patrick "Dusty" Foster, scored in the top seven. A lead group established itself from the get-go: Curtis Wheeler and Chris Hopkins of USM, and Thomson Ogilvie and Nate Krah of Bowdoin. Percy finished fifth in 4:35 and Dusty was right behind in 4:37, just edging out a USM runner by 1 second for the point. In the 400, Carlos Castro managed to take sixth with a time of 53.65. USM's Jimmy Sawyer won the event in 50.43 and was followed by teammate (who anchored their winning relay last weekend at USM) Corey Gobbi in 51.00. The 600 was a hot event, as a battle up front between Chris DeRoo of Colby and Doug Mercer of USM resulted in Mercer's win in 1:22.57. DeRoo nonetheless finished with a very impressive 1.23.21. For Bates, Miley finished sixth with a time of 1:26.88, a seasonal PR. The 600 also saw the return of Alex Hegevall-Clark, who ran in his first race since cross country due to an injury. He finished 8th with a very impressive 1:28.76.
Although Bates didn't score in the 800, it did mark the comeback of Mike Watson, who did not race last week and has been injured for most of the season. Watson placed 7th, one position outside of scoring, in a respectable time of 2:03. Up front, Dan Moss of Colby prevented Curtis Wheeler from winning his second event of the day, by out -leaning him at the line to win in 1:56.51. Wheeler took second with 1:56.89. The 1000 went well for Bates, as all three entries scored. The race got off to a very slow start, as Griff had the lane 1 assignment, and was hesitant to go fast due to his foot injury. He led for 3 laps, with Colby's Bob Glotfelty (who won the event last year) on his tail. Percy and Musso moved up through the pack until they were seating right behind Glotfelty going into the 4th lap. Bob made his move with 2 laps to go and shot up ahead of the field. He remained uncontested for the rest of the race, winning by about 2 seconds in 2:36. Although everyone in the race was seeded under 2:40, only 2 runners ran under that mark. Musso finished 3rd overall in 2:40.22, a lifetime PR. Griff and Percy finished in 5th and 6th, respectively, in 2:42.08 and 2:42.99.
In the 200, Ryan Quinn finished sixth with a time of 23.41, just ahead of a Bowdoin runner. The 5000 was a fantastic event. At the gun, Bowdoin's Nate Krah and Tyler Lonsdale took it out and shared the work, swapping the lead every lap. They were in hot pursuit by both Wheeler and Tyler Jasud of USM. Our guys, Fudge and Sauce, took it out conservatively, but worked themselves up throughout the race. Fudge had a some 28-second PR, finishing 5th in 15:32. Sauce finished in 10th in 16:14, and T-Unit set a new lifetime PR of 16:37.
By the time the relays came around after the 5k, it was clear that the two top spots would go to USM and Bowdoin. However, it was still unclear who would win. In the 4 x 4, USM beat Bowdoin by about 2 seconds, taking the win in 3:25.75. Bates finished 3rd, one place ahead of Colby, with a time of 3:35.59. The last running event on the track was the Blackout 4 x 8 (for more info on this race, click here). Musso led off and handed off to Watson, Dusty, and finally Percy. It was great to have Watson back in that relay. As always, it was a very exciting race, as the lights went off after the first 100, and spectators lined lane 3, cheering their heads off. Colby put together a great team for the relay and won the event in 8:10.19, holding off Bowdoin who finished in second with a time of 8:15. We finished third in a season best of 8:22. USM's third leg dropped the baton during one of his early laps, and anchor-leg Forrest Tobie unfortunately had to run alone.
In addition to the performances of the throwers and Triple Jumpers at the beginning of the meet, the other field events went very well. John couple his performances in the Hurdles and 600 with a second place in the high jump. John jumped 5-11.25, edging out Nate Fogell from USM. Wes Farnsworth and Born took 4th and 5th, respectively, with jumps of 5-09.25 and 5-07.25. The pole vault also went well. Jerome Bennett unfortunately had to sit out this meet due to a groin injury in practice the day before. It was up to the sophomore duo of Peter Garber and Nick DeFrancis to score points for us. And score points they did! Nick finished 3rd with a mark of 12-03.25, and Peter finished 5th in 11-09.25. In the Long Jump, Ryan Quinn and Miley took 2nd and 3rd, respectively, with jumps of 20-04.25 and 20-02.25.
Overall, it was a good day. Obviously, we would have liked to win. We came in with a good deal of confidence, having beaten USM last week at their invitational. However, we are very happy for USM. It cannot be overstated what that team has done in the past three years. Five years ago at this meet in 2003, Bates won with 212.75 and Bowdoin was second with 162.25. Trailing were USM with 87 and Colby with 51. Three years ago, in 2005, when the current senior class were freshmen, Bates won with 190, Bowdoin was second with 128, Colby was third with 110, and USM was last with 93. This USM team has really risen up in three short years and molded a great team. They have great talent, and are all very modest guys, Congratulations to them. Additionally, despite their fourth place finish, Colby cannot be taken lightly either. They have great talent and enthusiasm on that team, their only problem is their admitted lack of depth. Double the participants on that team, and suddenly we have an even more exciting State Meet.
Next week we'll be at the Tufts Invitational, trying to get last minute qualifiers in for the championships meets. It will be the last meet where we all compete as a team before the Outdoor season starts in late March. Following Tufts will be a week of good training, as we have February Break during that week. DIII New Englands will follow the next week, again at Tufts.
Honor Baton: Noah Gauthier for his aforementioned performances today
Results can be found here.
Also, updated Performance, Qualifiers, and Top-Ten Lists can be found on the Schedules/Results page. Finally, Tom Leonard '78 has posted 589 photos from the January 26 Bates v Colby dual meet on his website (www.batesxc.shutterfly.com) - password remains "gobobcats"
___________________________________________________________________________________________________
NEWS (2/2/08)
Bates Wins USM Invite
Bates had a great day today, winning the USM Invite, and beating host USM by a mere 3 points.
The USM track facility is excellent. The track surface feels great to run on, and the facility is well aerated and well lit. It is everything that we hope our facility will become next season after the new track is laid down over the summer and new lights are installed (which have already been delivered). The meet went through several different schedule changes, each pushing the meet back later and later. It got to the point where, fairly early on, we realized that there was a good shot we wouldn't make it back to Commons by closing time (8pm) and we might get to eat in the Den. As it turned out, that's what happened. Nonetheless, it was a great day for us at the meet. FYI, the top 8 scored and scoring went 10-8-6-5-4-3-2-1. Also, we had two great photographers alums at the meet with their cameras today. Joe Gromelski '74 drove up from Virginia last night and Tom Leonard '78 came up from Connecticut. It was great to see both of these guys, and they are such familiar faces to our team now that we might as well put them on the roster.
The weight guys were kinda good. In the 35-lb weight, we took 1-6: Noah (59-08.25), Rich (53-11.75), Mark (49-07.25), Lopez (49-05.75), Murtagh (46-07.50), and Doug Goulding (41-00.50). It was a great displace of our strength in that event, and all our throwers were in the second flight. The Shot also went very well for us. Noah and Rich took first and second, respectively, with throws (or 'puts') of 48-03.25 and 47-02.25. Lopez and Mark took 4th and 5th with marks of 41-09.25 and 40-09.00.
The sprinters performed very well. In the 400, Quinn and Carlos finished 3rd and 4th respectively with times of 52.68 and 53.10, both finishing ahead of USM's Curtis Coleman in 5th. Miley finished 3rd in the 600 in 1:27.03, just ahead of two USM runners. Bates placed two runners in the finals of the 55m hurdles: Miley in 4th (8.40) and Brett Epler in 7th (8.75). It was one of the first events for Epler, who would go on to compete in 8 events throughout the day (including trials/finals). The 4 x 400 was an incredibly exciting relay. Bates had a decent lead throughout the race, but in the final leg, Corri Gobi, a freshman from USM ran a 49 low out of nowhere and beat us by 0.05 seconds. Neck and neck at the line, and it was nearly impossible to tell who had won until the photos confirmed it.
The distance runners had a fairly solid day as well. This meet was interesting because there was both a 5k and a 3k, so there were ample opportunities for distance runners to choose from. T-Unit and The Big Ticket (Taska) ran for us in the 5k, both setting PRs. Tim finished 5th in 16:44 (3 seconds faster than his time at Bates last weekend), and Ticket finished 5th in 17:00. The mile was the next distance event. Chris Hopkins of USM won in 4:23, and Percy took 4th with a time of 4:34. Although he was not happy with that time, it was a shade better than the time he posted at MIT 2 weeks ago. The cool part of that race, though, came from everyone else. Dusty ran a ridiculously great race and finished 7th in 4:39. Scout had a great race and broke 5 minutes for the first time in college, shattering that mark by running 4:47. prior to this race, Doogie's PR in the mile was around 5:02. He never seemed to be able to break that 5 minute mark, despite several heartfelt attempts. Well, in this race, Doogie closed out his last lap in 30 seconds for a time of 4:48! It was one of the coolest things many of us have ever seen on the track. That was a huge race for the Doogster.
Gucc (Kevin McDonald) had a breakthrough day today as well. After a few races he was unhappy with, he finished 2nd today in the 20-deep 800 race with a time of 2:04. USM's Jimmy Sawyer took the win in 2:00. Dusty was another one who had a fantastic day. He won his heat of the 800 in 2:06, after having run a fast mile. Squeak wasn't happy with his performance ("I can't even tell you what happened during that race," he later said), but nonetheless finished 6th out of 20 with a time of 2:08. Following his great run in the mile, Doogie came back in the 800 with another 3 second PR of 2:11. In the 3k, Sauce took off like a bat out of hell, attempting to chase down a UMass Dartmouth runner out in the lead. He ended up in 5th, running the same time as last weekend (9:18) and Fudge was able to take 3rd with a great time of 9:10 (just 10 seconds shy of the DIII NE mark). Another really cool performance came from Sweetums in the 3k. Sweetums took the lead in the second heat pretty early on and never let it go. He ran 9:29 completely alone, and finished 10th overall in the final results.
Finally, the 4 x 800 was a very cool race. In addition to CJ (who has a knee injury), both Griff and Watson sat this meet out due to foot injuries of their own so that they could be well rested for the State meet next weekend. We put together a 4 x 8 team of Percy, Squeak, Gucc, and Tim Natriello. A few minutes before the race, we learned that if the relay finished 3rd, we would win the meet. That would be nice since Bowdoin has lost to USM twice (granted the Wheelers only ran the 4 x 8, but we also didn't have CJ, Griff, Watson, nor did we completely distribute our guys in a way to gain maximum points). Anyway, it was a real race for 3rd in the 4 x 8, and we managed to hold off Fitchburg State to take 3rd with a time of 8:26. Very exciting.
Nick DeFrancis Peter Garber both had great days in the pole vault. They set massive lifetime PRs of 12-04, finishing 3rd and 4th respectively. Drabo took second in the Long Jump with a mark of 20-11 and Epler took 6th with 19-05.25. In the Triple, Robert Lindon finished 3rd with his leap of 38-06.
Overall, Bates won with 174 points, USM was second with 171, and were followed by Worcester State (114), UMass Dartmouth (77), Fitchburg State (61), Emmanuel (31), Gordon (6), and UM Invictus (4).
Next week is our most important meet of the season: the State of Maine Championships. The last time we won this meet was in 2005 at Bowdoin. The meet will be held again at Bowdoin, and we are looking forward to a day of great competition with 3 other incredibly talented teams.
Honor Baton: Noah Gauthier
Results from the meets can be found here. Also, updated Performance, Qualifiers, and Top-Ten Lists have been updated by team manager Bill Jack '08 and are now posted in the Schedules/Results/Lists section of the site.
___________________________________________________________________________________________________
NEWS (1/25/08)
Colby Dual Meet This Weekend
Tomorrow will be the final race on the current Bates indoor track and field facility. Construction on the new mondo indoor track will begin in July and finish in early August. Tomorrow's lone home meet of the season will be a great way to bid farewell to the indoor track that hosted one of the first NCAA DIII Indoor Nationals meets in 1985. The race is not a large championship meet, nor a meet with obscure teams, but rather a dual meet against two small colleges in Maine, with a centuries'-old rivalry.
Bates is not sending any athletes to the Terrier Classic at Boston University this weekend. Instead, we are going to all race against Colby tomorrow.
Hope to see lots of people in Merrill Gym tomorrow afternoon!
___________________________________________________________________________________________________
NEWS (1/24/08)
MIT Photos Posted
If you come to nearly any Bates XC or track and field meet, you're likely to see, Tom Leonard '78 (father of women's team member Allison '10) making rounds with his camera and Bates baseball cap and taking amazing photos of our team. Tom uploads hundreds of these photos onto http://www.batesxc.shutterfly.com. When prompted, the password is "gobobcats". Updates have also been made to the 2007 XC Season photo page.
As always, visit out Photo/Video Page by clicking here
___________________________________________________________________________________________________
NEWS (1/19/08)
Bates Finishes 2nd at MIT Tri-Meet, Gauthier Ranked 1st in the Nation in the Weight
MIT dominated the meet today in Cambridge between the Engineers, Bates, and Colby. MIT walked away with 211 points, followed by Bates with 90, and Colby with 42.
Highlights for Bates included freshman Ryan Quinn, who finished 3rd in the 55 Dash, 200m, and Long Jump with marks of 6.71, 23.32, and 20-07.75, respectively. Griff Stabler '10 led the middle distance runners with his 4th place performance in the mile with a time of 4:29, and his excellent 2:01 lead-off leg in the 4 x 8, a race in which he battled MIT the entire distance. Freshman Joe Musso performed very well in the 1000 with a 3rd place finish and time of 2:41, not too far off of championship meet qualifying marks. Both Dillon Tung '09 and Will Viti '08 ran PRs in the 3k. Sauce ran 9:18 and Viti ran 9:48 after having run the 800! Freshman Brett Epler won the high jump with a leap of 5-10.00.
However, it was really the weight throws where Bates truly shined today. Noah threw 59-07.50 to win the 35-lb weight throw. He was followed by sophomores Rich McNeil and Mark Liu, respectively. Matt Lopez '08 took 5th in the event. The shot put was Bates' best event of the day, as we took 1, 3, 5, and 6. McNeil won with a toss of 49-01.00.
Honor Baton: Rich McNeil for his 1st place win the shot put and 2nd place in the Weight Throw.
Overall, we were happy with how we performed today. We know that MIT historically goes into this meet incredibly charged and ready to go. They put their whole team out there today, while we chose to limit our guys to one or two races for the most part. We saw very good first-meet performances from our guys, and our main focus is getting ready for the State of Maine Championships in 3 weeks at Bowdoin. Next week we'll race Colby at home in Merrill Gym, in what will be the final meet in the life of our current indoor track.
Results from today's meet can be found here
Nation-wide performances lists can be found here
___________________________________________________________________________________________________
NEWS (1/15/08)
Gauthier FInishes 5th in Weight Throw at Dartmouth, Currently 2nd in Country
Co-captain Noah Gauthier '08 finished 5th out of 23 competitors in the 35-lb weight throw at the Dartmouth Relays this past Sunday. Noah not only threw the best DIII mark of the day, but is currently ranked 2nd in the country based on early results. Additionally, Noah provisionally qualified for DIII Nationals in March. Noah's toss of 56-06.75 was not far off of the 4th place mark of 56-07.25 set by Alex Lippai of Dartmouth. The winning toss was set by Jason Baines of Brockville with a mark of 62-04.50. Capone and Noah left Bates on Saturday and spent the night at Noah's house in southern New Hampshire (just in time to watch the Pats game) and made their way up to Hanover on Sunday. Noah was pleased with his performance, but, humble as always, realizes that it is early in the season and there are many more meets to come before a trip to Nationals in March.
Results of the meet can be found here.
___________________________________________________________________________________________________
NEWS (12/8/07)
Miley Sets New School Record in Pentathlon!
Co-captain John Miley '08 broke Joe Northup's '05 school record and beat Tufts' Nate Scott by 50 points to win the Bates Pentathlon today. Miley's score of 3,472 was 91 points better than Northrup's 3,381. Six athletes, and four of them freshmen, represented Bates in today's pentathlon, which also featured members from Tufts and University of Southern Maine. Erik Born '10 finished 4th overall with 3,086, Brett Epler was 7th with 3,038, Monthe Kofos '11 was 9th with 2,646, Robert Lindon '11 was 10th with 2,493, and Wes Farnsworth '11 was 12th with 2,422.
Impressively, Miley, Born, and Epler all qualified for the championship meets DIII New Englands and the Open New England Championships. Both Coach Fresh and Interim Head Coach Matt Capone were very pleased with the results. Capone pointed out that not a single school record was broken all last season, and to break a big one right off the bat in December is a great testament to the strength of this year's team and what we can hope to expect for the rest of the year.
The following table breaks down the individual results of the Bates competitors from today's Pentathlon
| | | | | | |
| --- | --- | --- | --- | --- | --- |
| | 55m Hurdles | Long Jump | Shot Put | High Jump | 1000m Run |
| Miley | 8.43 | 20-08.00 | 38-01.50 | 6-02.25 | 2:47.62 |
| Born | 8.48 | 20-00.50 | 32-04.75 | 6-00.00 | 3:04.98 |
| Epler | 8.33 | 18-05.00 | 32-06.25 | 5-07.25 | 2:52.75 |
| Kofos | 8.84 | 18-05.75 | 26-08.25 | 5-05.00 | 3:05.05 |
| Lindon | 9.48 | 18-01.00 | 32-00.75 | 5-06.00 | 3:17.22 |
| Farnsworth | 10.12 | 16-08.75 | 33-01.75 | 5-09.75 | 3:12.96 |
Results from today's meet can be found here.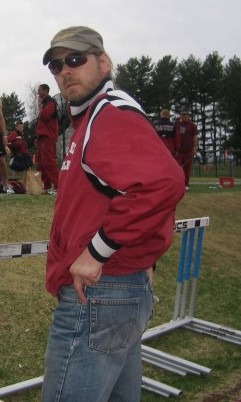 "Hey thanks for scrolling down to the bottom! Hey Go Bates!"