Facilities
The Russell Street Outdoor Track & Field Facility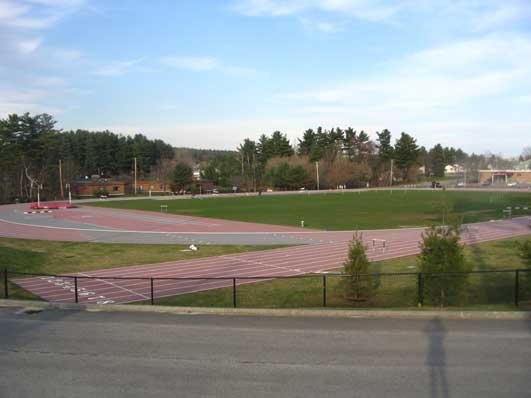 The Russell Street Outdoor Track & Field Facility opened in April 2002. The main
attraction is the brand new 8-lane mondo surfaced track. The track is very
circular with short straight-aways, making it seem shorter than its true 400 meter distance.
Long jump pits, steeplechase water pits, and pole vault pits are a few of the
facility's features. With the Thorncrag mountains in the distance, running
on the track really reminds athletes that they are in the beautiful state of Maine.
Right next to the track is the throwing complex with a discus and hammer cage.
Indoor Track Facility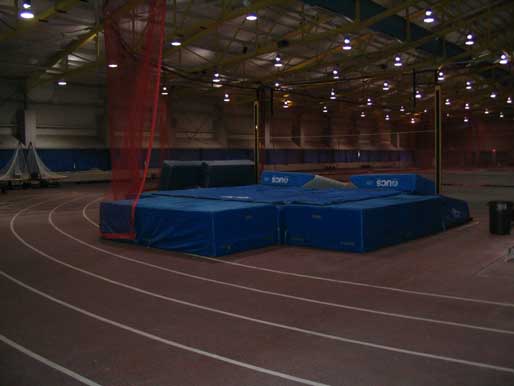 Bates' indoor track is a 6-lane lightly mondo surface. In the center of the track are tennis courts for indoor use. During all seasons the runners meet at the indoor track, which is housed in Merrill Gymnasium. On the wall are the All-American plaques, National Champions plaques, and the Bates school records board. By meeting under these objects of achievement, the runners are constantly reminded what they can hope to aspire to.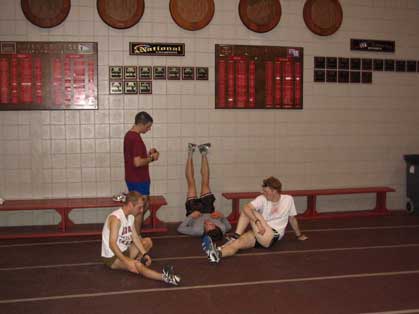 Matt "Shelly" Daly, Matt Biggart, Mike Downing, and Nic Hansen stretch and lift legs on the indoor track after a day's workout.
Laundry Service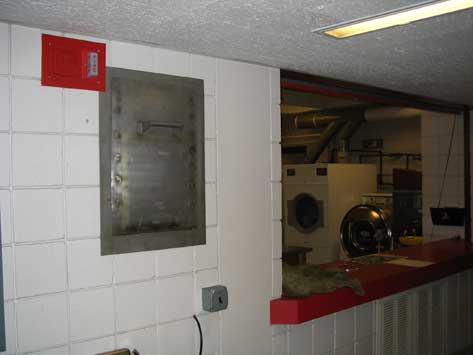 Bates provides a free athletic laundry service to its athletes. Some take it for granted but many other schools, even Division I, do not offer this service...and all those smelly clothes can add up. Just put the clothes in a mesh bag, throw it in the metal chute on the left and the next day the clean running clothes will be in the locker ready to go. Magic....