Coach Profiles
Carolyn Court
Head Coach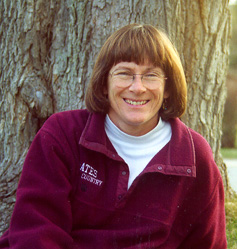 Carolyn Court serves as women's cross country and track and field coach. An All-American in the 800-meter run at Southern Connecticut State University, she was inducted into the school's Sports Hall of Fame in 1997. She earned her master's degree at Penn State and came to Bates in 1979. Since then, Court has become one of the most respected Division III coaches in the country, having sent 42 athletes to the national championships with eight earning All-America honors. In 1995, she was the New England Divi sion III women's cross country Coach of the Year. She has served on the NCAA Track and Field Rules Committee, the coaching staff of the World Cup Track and Field Team and the U.S. Olympic Sports Festival Track and Field staff for the East. She also worked as an intern in the USA Track and Field Office and helped with the administration of the NCAA Division I Indoor Track and Cross Country Championships.


Danielle Vartabedian
Assitant Coach, Jumps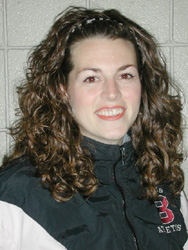 Danielle Vartabedian is the newest addition to the coaching staff of the Bates Track and Field team. She is from Syracuse, NY, and a graduate of SUNY Cortland. At Cortland, she compet ed in the heptathlon and pentathlon and earned All-America honors in the high jump. She has a personal record of 5'7" in the high jump and 17' in the long jump. She was recently recognized as the "Student Teacher of the Decade" by her supervisors at Cortl and. Danielle had coaching experience at both the high school and college level prior to coming to Bates experience prior to her move to Maine.
At Bates, Coach Vartabedian coaches the jumping events, and will expand to the sprints and relays next year. A strong believer that hard work yields results, she emphasizes weight training along with technique and speed work for all her athletes. She also compl iments their training with pool workouts and trampoline work. Coach Vartabedian believes in building a close relationship between all team members in addition to training individuals for their specific strengths. She stresses that a team is not solely a team, b ut a family as well. Coach Vartabedian is excited to be a part of Bates Women's Track and Field, and the team members have performed well with her coaching.

Tom Menendez
Assitant Coach, Distances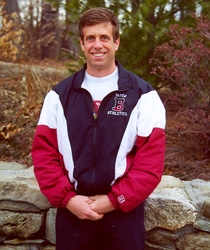 Tom Menendez has been working with the track teams at Bates since 1992 with specialty areas being the distance and middle distance events, pole vault, and meet admisistration. A success ful masters distance runner and strong motivator, Coach Menendez frequently runs with the distance runners and is a willing training partner on interval days. He also works with the cross country team in the fall. Coach Menendez is a teacher at the Monmou th Middle School. He has coached youth track and field during the summer for over ten years and his teams have brought home seven state championship titles. A former captain in the Marines, he is a graduate of Villanova University and received his MBA fro m National University.

Joe Woodhead
Assistant Coach, Throws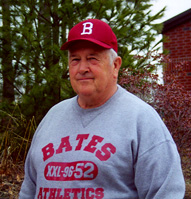 Joe Woodhead is one of the most successful throwing coaches in the country. During his 14 years at Bates College he has sent 32 athletes to the national Championships in the throwing events and they brought back All-America Honors 18 times. Joe has produced a coaching video on the Weight Throw and has sold over 300 copies to coaches throughout the country. A resident of Lewiston, former football captain at Springfield College and a graduate of the University of Maine-Orono, he competed in the throwing events at the collegiate level, and was captain of the football team. His sense of pride and commitment to his athletes is unparalleled. The ultimate goal for each of his athletes is competing at the National Champion ship, and he instills the dream and desire of competing at that level. Hard work pays off, as far as Coach Woodhead is concerned, and his athletes are willing to put it all on the line for him. Coach Woodhead has coached the Bates men for over ten years h as been part of the Bates women's coaching staff for 2 years.



---


©1999 Bates College.
All Rights Reserved.
Last modified: 7/1/99 by asl