February 6, 2002

Contact: Adam Levin
Phone: (207) 786-6411
State of Maine Championships
hosted by the University of Southern Maine
at Gorham, Maine
DUTTON, PUGLISI, WANLESS WIN STATE TITLES
Bobcats finish fourth
GORHAM, Maine — Three Bates College student-athletes won titles at the 2002 State of Maine Indoor Track and Field Championships at the University of Southern Maine Friday night. The Bobcats placed fourth as a team at the event with 70.5 points.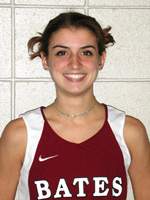 Leading the way for the Bobcats was sophomore Kelley Puglisi of Scotia, N.Y., who won the 1,000-meter run with a time of 3:01.07. With her performance, Puglisi broke a school the Bates record by half a second. She broke the previous mark of 3:02.57.set by Rebecca Watt in 1983 and later tied by Adelia Myrick in 1997. The Bobcats' second winner on the track was sophomore Julie Dutton of Londonderry, N.H. Dutton won the 5,000-meter run with a lifetime-best performance of 18:34.15.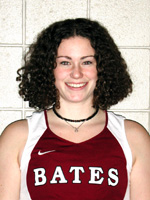 Bates sophomore Liz Wanless of Belleville, Ill., won the Bobcats' only field event when she took the shot put with a throw of 42 feet, 10 inches. With the win, Wanless defeated rival Connie Beale of Colby for the first time in three attempts. Wanless currently sits one-half inch behind Beale in the NCAA Division III championship seedings in the shot put. Bates senior Jen Strahle of Ridgewood, N.J., who qualified for the NCAA championships in the 20-pound weight throw on Feb. 2 at Tufts, improved her standing with her fourth-place finish and a throw of 46-1.5. Strahle now stands 22nd on the NCAA rankings list.
---