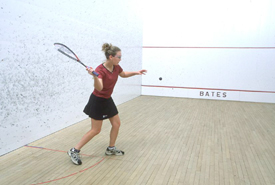 With three straight winning seasons, including a 13-11 campaign in 2000-01, and consecutive 13th-place finishes at the Howe Cup tournament, the Bates College women's squash team is headed in the right direction under head coach John Illig, the 2000 United States Developmental Squash Coach of the Year. The 2000-01 season saw the Bobcats win the consolation bracket of the second flight at the Howe Cup with a pair of 5-4 victories. The team's good fortune continued the next week at the Women's Intercollegiate Squash Association individual championships when senior Aisha Shah '02 became the first squash player in school history — male or female —Ęto win All-America honors.
Shah is the winningest No. 1 player in Bates history with a 41-22 career record. The Bobcats will have to replace three spots on their final 2001 ladder, including the No. 3 player on their ladder, volleyball standout Kate Hagstrom '01. Rookie Kristen Brush '04 spent much of the season in the second spot on the team, where she posted a 15-10 record. The Bobcats' future looks bright with Shah as the only member of the class of 2002 who was part of the final regular-season line-up.
While the Bobcats fell short against the four Ivy League opponents they faced, the matches proved to be excellent measuring sticks for the team's growth. Among their victories was a 5-4 win over Middlebury at the Howe Cup, avenging an early-season loss, and a 5-4 win over St. Lawrence at the tournament. Bates swept teams from Smith and Vassar, while taking 8-1 decisions from NESCAC rivals Connecticut College, Hamilton and Tufts.
Bates currently has two wide and six narrow courts in its Merrill Gymnasium squash facility. Three of the eight courts are glass-backed.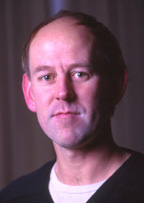 President of the Women's Intercollegiate Squash Association (WISA) for 2001-2003, John Illig (jillig@bates.edu) is in his 11th year as a collegiate squash and tennis coach. He has led the Bobcats to five consecutive B-flight appearances at Howe Cup, has coached two All-Americans and two Ann Wetzel Award winners and was voted WISA's 1999-2000 Clarence C. Chaffee Award for the coach whose team best demonstrates the characteristics of sportsmanship and competitiveness. He was also named U.S. Developmental Coach of the Year by the United States Olympic Committee in 2000. Illig came to Bates in 1996 following five years as head coach at Colby College. A 1986 graduate of the University of Rochester played three years of team-tennis in Germany. He has through-hiked the Appalachian Trail and the Pacific Crest Trail. In 1998 he published Trail Ways, Path Wise, an AT narrative.

---


©2001 Bates College.
All Rights Reserved.
Last modified: 6/21/01 by asl