The Week That Was in Bates Sports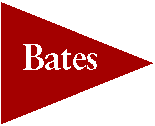 October 8-14, 1995
---
Despite a season high 223 yards passing from the quarterback tandem of Chris Snow (10-20, 134 yds., 1 TD) and Dan Hooley (6-11, 89 yds. 1 TD), the Bobcats lost to the Wesleyan University Cardinals, 23-16, in Middletown, Conn.

For the first time this season, Bates scored first. After a Snow punt pinned the Cardinals on their own eight yard line, sophomore defensive lineman Brendan Cullen picked up his first sack of the season, dropping the Wesleyan QB in the end zone for a safe ty. Unfortunately, that was all the scoring the Bobcats could muster in the first half, as they entered the locker room down 14-2.

The 'Cats clawed their way back in the third quarter, however. Snow led them on a six play, 80-yard march, connecting on all five pass attempts for over 15 yards, including a 20-yard strike over the middle to junior wideout Tom Spiro (4 catches, 66 yds, 1 TD) and a 22-yard touchdown toss to sophomore tight end Ryan MacDonald (3 catches, 34 yards, 1 TD), cutting the Wesleyan lead to 14-9. The Cardinals scored the next nine points on a field goal and a touchdown with a missed extra point to go up 23-9.

With about eight minutes to go in the game, Snow was forced out of the game with a shoulder injury. Hooley entered the game for two drives. On the second, he led the Bobcats 88 yards on 8 plays in 1:30, including a 26-yard strike to sophomore tailback P.J . McGrail and catches of 20 and 12 yards for Spiro, the last for a touchdown. Unfortunately, the subsequent onside kick was recovered by the Cardinals, who hung on for 23-16 win.
Up Next:
10/21 Middlebury
---
Led by a 13th place finish by Justin Freeman, the Bates Men's Cross Country team finished 6th amongst Division III schools at Open New England's. Freeman ran a time of 26:26 and teammate Steve Beardsley finished 26th with a time of 27:13. The Bobcats fin ished just ahead of NESCAC rival Colby.
Up Next:
10/28 NESCAC Meet @ Connecticut College
---
Led by first-year student Adelia Myrick, the Bates Women's Cross Country team posted a second place finish in the Bowdoin Invitational. The Bobcats top three runners, Myrick, Abigail Phelps, and Melissa Leier finished second, third and fourth respectively . Myrick finished six seconds behind Bowdoin's Darcy Storin with a time of 19:07. Phelps and Leier finished within one second of each other with times of 19:16 and 19:17, respectively. The team finished second to Bowdoin in a close race.
Up Next:
10/21 Open New England's @ Franklin Park
---
The Bates field hockey team lost its first game of the week, 2-0 to rival Bowdoin, but rebounded on Saturday with a 2-0 win over New England College.

The Bobcats dominated N.E.C. on Saturday, outshooting their opponent 23-2. Meghan McGrath and Rosie Lenehan scored the two Bates goals. The Bobcats' record now stands at 6-4.
Up Next:
10/16 St. Joseph's
10/21 @ Connecticut College
---
The Bates Women's tennis team had a rough week losing to Bowdoin and Colby. Their record now stands at 5-5.
Up Next:
10/21 NEWITT Tourn. @ UMass/Amherst
---
The women's soccer team had a great week, routing USM 7-0 and upsetting Gordon College 3-1. On Tuesday, seven different players scored and goalkeepers Shannon Walker and Suzie Arnold combined to make 11 saves for the shut-out.

On Saturday, the Bobcats scored three first half goals, including two within 35 seconds of each other. Breck Smith opened the scoring for Bates and Colleen McCrave made the score 2-0 only 35 seconds later. Meghan Lockwood assisted both of the first two go als and Julie Lundman tallied the final goal.

Gordon College scored its lone goal with ten minutes left in the game spoiling the Bates shut-out. The Bobcats' record now stands at 5-5.
Up Next:
10/16 St. Joseph's
10/21 @ Connecticut College
---
The men's soccer team played one of their best games of the year, defeating the second ranked team in New England, Wheaton College, 1-0. The lone goal of the game came towards the end of the first half. The Bobcats put pressure on the Lyons' defense. Seni or Breck Taber put a shot on goal from near midfield, which was stopped easily. Senior Kyle Darling was right there, however, to knock home the rebound. The defense allowed just four shots on goal, all of which were stopped by junior goalkeeper Mike Marsh , including a penalty kick early in the second half to preserve the lead. The Bobcats' record now stands at 4-4-2.
Up Next:
10/18 @ Bowdoin
10/21 @ Connecticut College
---
The Bates golf team had one of their best outings of the season at the University of Southern Maine Invitational on Sunday and Monday. Tom Sargent shot the single best round of the tournament, a 75 on Sunday, but was unable to compete on Monday. Mark Behn shot a 160 (81-79) and was tied for third overall, while Jim Montgomery's 164 (85-79) tied him for 6th place. Also finishing strong was Mike Talmanson with a 169 (80-89). As a team, Bates finished 2nd to Husson by just one stroke, 658-659.
Up Next:
10/17 CBB Tourney @ Colby
---
for information about sports at Bates, send email to Adam Levin