March 6-9, 2002

Contact: Adam Levin
Phone: (207) 786-6411
NCAA Championships
hosted by the University of Alaska-Anchorage
at Anchorage, Alaska
NCAA SKIING CHAMPIONSHIPS
ANCHORAGE, Alaska — The Bates College ski team finished the 2002 season this week at the NCAA Championships hosted by the University of Alaska-Anchorage. Bates finished in 15th place with 116 points, down two places from 2001. The University of Denver won its third consecutive championship with 656 points.
Junior Justin Easter of Jay, Maine, and sophomore Haley Johnson of Lake Placid, N.Y., competed for the Bobcat Nordic team, wihle senior Kyle Hildebrand of Waitsfield, Vt., represented the alpine squad.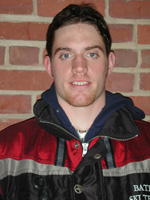 Easter had his best performances ever at the championships. He placed 16th in the men's 10K classical race with a time of 28:43.7. Easter finished second among Eastern skiers, just four-tenths of a second out of being the first EISA member to cross the finish line. Bates finished 12th of 16 teams in the men's Nordic race, placing ahead of Williams, who was represented by two skiers, and Alaska-Fairbanks' three representatives. Easter followed that performance up by coming in14th in the 20K freestyle race with a time of 53:31.7. He improved his best NCAA finish by two spots from Thursday's 16th place finish. Easter was the third skier from the East to cross the finish line. He was 57 seconds out All-America position. Easter scored 26 points, helping him finish ahead of the two-man delegation from Williams College and Middlebury's three-man contingent.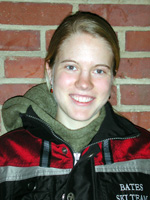 Johnson placed 25th in the women's 5K classical race with a time of 17:01.8 in her first-ever NCAA race. She was sixth among Eastern skiers. Johnson finished in 26th place in the women's 15K freestyle race with a time of 48:06.2, fifth among Easter skiers. The Nordic events were held at Kincaid park in Anchorage.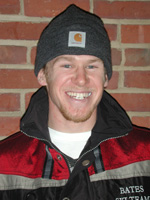 Senior alpine skier Kyle Hildebrand of Waitsfield, Vt., just missed his fourth career All-America honor on the first day of competition, finishing 11th of 35 skiers.Hildebrand was in ninth place after the first run of the day with a time of 1:09.21, but could not hold the position, finishing with a total time of 2:19.39. He was the fourth finisher from the East region at the meet. Hildebrand fell during his first run in the slalom event,finishing 32nd overall. He recorded an overall time of 2:37.51. He posted a time of 1:40.44 in the first slalom run and 57.07 seconds in the second run.


Complete results from Alaska-Anchorage
# # #
---