May 23-25, 2002

Contact: Adam Levin
Phone: (207) 786-6411
FOR IMMEDIATE RELEASE
PUGLISI FINISHES THIRD IN NCAA 1,500-METERS,
SETS SCHOOL RECORD
LEWISTON, Maine —Bates College junior Kelley Puglisi of Scotia, N.Y., has earned her first career All-America honor today by finishing third in the 1,500-meter run at NCAA Division III outdoor track and field championships at Macalester College in St. Paul, Minn.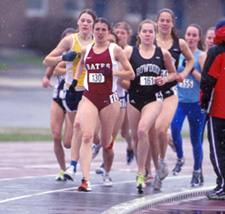 Puglisi, who entered the NCAA championships as the 11th seed, finished third with a school-record time of 4:37.92. She broke her own record, set at the New England Division III championships on May 7, by nine-hundredths of a second. Puglisi was the top finisher from New England in the event. She placed seven seconds behind champion Missy Buttry of Wartburg (Iowa) College.
Puglisi is the fifth woman in Bates outdoor track and field history to earn All-America honors and the first in the 1,500-meter run. Her third-place finish was the highest by a Bobcat woman at the championships since Heather Bumps (class of 1997) placed third in the javelin in 1996.
The six points scored by Puglisi helped the Bobcats to a six-way tie for 38th place. The finish was the highest for the Bates women since 1996, when they finished in 37th place.
Complete results from the NCAA championships are available at the Macalester College web site: http://www.macalester.edu/athletics/ncaa/index.html.
For more information on athletics at Bates, please visit our Web page at http://abacus.bates.edu/sports/.
# # #
---