May 21, 2002

Contact: Adam Levin
Phone: (207) 786-6411
FOR IMMEDIATE RELEASE
BATES TRACK SENDS FOUR TO NATIONALS
LEWISTON, Maine —The Bates College men's and women's track and field teams will send four representatives to the 2002 NCAA Division III outdoor track and field championships May 23-28 at Macalester College in St. Paul, Minn.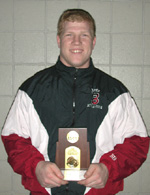 Senior Jaime Sawler of Stratham, N.H., is making his third appearance at the outdoor championships, having won All-America honors in the event in 2001. Sawler is the top seed in the hammer throw, with a season-best heave of 191 feet, nine inches at Bates' first meet on its new facility at the Russell Street Track. He is the only Division III athlete to have exceeded 190 feet in competition this season, repeating the feat at the Intercollegiate American Amateur Athletics Association (IC4A) championships May 17-18 at Princeton University. He placed seventh at that meet, competing against 26 Division I athletes from the east coast. Sawler won the 35-pound weight at the 2002 Division III indoor championships and has not lost to a Division III during the 2001-02 season. He has captured Maine, New England Small College Athletic Conference (NESCAC) and New England Division III titles in the hammer, while placing third at the New England All-Division championships.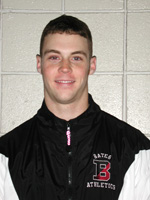 Sawler will be joined in the hammer throw by classmate Greg Hurley of Arlington, Mass. Hurley was the 16th and final competitor in the hammer accepted to the field. His qualifying performance of 178-3 came at the Open New England championships.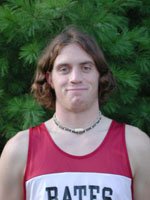 Junior Justin Easter of Jay, Maine, is making his ninth career appearance at an NCAA championship, including three in cross country and three in skiing. He is the top seed in the 3,000-meter steeplechase, boasting a time of 9:02.70. A three-time NESCAC champion, Easter ran 9:02.70 at the IC4A championships, finishing ninth, just out of the scoring column. Easter is a three-time All-American, including twice in the steeplechase. He finished sixth in the event in 2000 and fourth in 2001.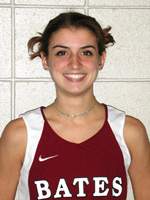 Representing the Bates women at the NCAA championships is junior Kelley Puglisi of Scotia, N.Y. Puglisi is the 11th seed in the 1,500-meter run. Her school-record time of 4:38.01 was run at the New England Division III championships, where she finished third. Puglisi also won the NESCAC title in dramatic fashion, coming from behind to win the event by 0.34 seconds. She will be making her first-ever appearance at the national meet.


Complete results from the NCAA championships are available at the Macalester College web site: http://www.macalester.edu/athletics/ncaa/index.html.
For more information on athletics at Bates, please visit our Web page at http://abacus.bates.edu/sports/.
# # #
---