April 3, 2002

Contact: Adam Levin
Phone: (207) 786-6411
FOR IMMEDIATE RELEASE
HAKALA, SAENGER NAMED 2002 BATES
LINDHOLM SCHOLAR-ATHLETES
LEWISTON, Maine — Cross country and track and field runner Rebecca Hakala of Sanford, Maine, and swimmer Casey Saenger of Newark, Del., have been named the 2002 winners of the annual Milton L. Lindholm Scholar-Athlete Award at Bates College.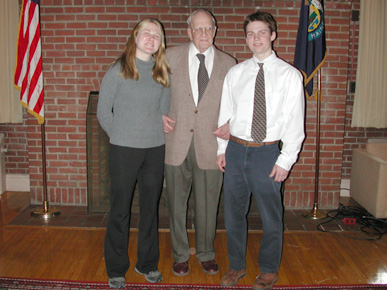 The award, named for the college's emeritus dean of admissions, is presented every year to the Bates senior man and woman who best combine athletic and academic accomplishment. The honored students have achieved the highest grade-point averages among student-athletes who have won two or more varsity letters, including one during the senior year.
Hakala, a 1998 graduate of Sanford High School, is a captain of the Bates women's cross country and track and field teams. She was among the Bobcats' top seven finishers during of the 2001 cross country season. In the 2000 indoor track and field campaign, she was part of a school-record-setting distance medley relay team, running the 800-meter leg. A two-time Academic All-NESCAC (New England Small College Athletic Conference) selection who has also been named a Dana and a Mitchell Scholar at Bates, Hakala is a mathematics major with a secondary concentration in French. She spent the winter semester of her junior year teaching English and studying French in Montpellier, France. She hopes to return to teach in France upon graduation from Bates.
"Rebecca's contributions go well beyond her athleticism," said women's track and field coach Carolyn Court. "Her work ethic is exceptional. The fact that her teammates elected her cross country captain after earning her first letter is a testament to that."
"Rebecca has really opened up to the French world," said Charles A. Dana Professor of French Richard Williamson. "To see her return from her semester in France with such confidence and grace was impressive."
Saenger, a 1998 graduate of Newark High School, is a four-year letter winner for the men's swimming and diving team who specialized in freestyle sprints. His top performances this season came at a Jan. 5 home meet against Norwich University, when he finished third in the 100-yard freestyle and fourth in the 50 free. A geology major, Saenger twice traveled to the Canadian arctic region with Associate Professor of Geology Michael Retelle, working on a study of climate change on Devon Island. He plans to work in the field of geology before returning to graduate school.
"Casey epitomizes what we think of as a student-athlete at Bates," swimming and diving coach Dana Mulholland said. "His enthusiasm and work habits have been an inspiration to his teammates."
"Casey has demonstrated an ability to do some impressive things as a young scientist," Retelle added. "He has done some cutting-edge research, the type of work done by master's degree students at other schools."
First presented in 1976 and considered one of Bates' most prestigious student honors, the Lindholm Award is sponsored by the College Key, a service organization of Bates alumni. It is named for Milton L. Lindholm of the Bates class of 1935, who served as dean of admissions from 1944 to 1976. As a student, Lindholm was a football captain and student council president.
Hakala is the daughter of Patricia Hakala, Sanford, Maine.
Saenger is the son of Peter and Margaret Saenger, Newark, Del.
For more information on Bates athletics, please visit our web site at http://www.bates.edu/sports.
# # #
---