January 16, 2002

Contact: Adam Levin
Phone: (207) 786-6411
FOR IMMEDIATE RELEASE
HASTINGS, WANLESS SET SCHOOL RECORDS,
QUALIFY FOR NATIONALS
LEWISTON, Maine — Two Bates College athletic records fell on Saturday afternoon, as senior diver Andrew Hastings of Weston, Mass., established a new mark on the 3-meter board, while sophomore Liz Wanless of Belleville, Ill., smashed her own mark in the shot put.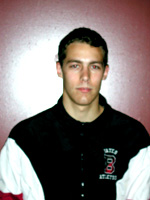 Hastings won both the one- and three-meter events in a dual meet at Babson College. His mark on the three-meter board of 320.86 surpassed his own record of 292.75 set against Babson a year ago. It was also his first NCAA championship qualifying mark of the season on the three-meter board. Hastings, who scored a 294.90 on the one-meter board, met the qualifying standard there for the fourth time this season. Included in his previous wins on the low board was a victory over Derek Chicarelli of Middlebury College, the defending national champion in both events. Hastings already owns six All-America awards, more than any other Bates student-athlete in school history.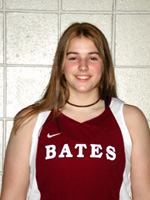 Wanless also broke her own record in the shot put. Her heave of 42 feet, 11 inches, took second in the event at the University of Southern Maine Invitational. Wanless set the previous mark of 40-11 in her only meet of the 2000-01 season. She also qualified for the NCAA championships on a provisional basis. She is currently ranked fourth in the nation in the event. Wanless' toss was one foot shy of the automatic qualifying standard. A trip to the NCAAs would be the second for Wanless, who was a key part of the Bates' run to the Sweet 16 of the 2000 NCAA Division III volleyball championships.

Hastings is a 1998 graduate of Weston High School. He is the son of Ripley and Elizabeth Hastings, Weston, Mass.
Wanless is a 2000 graduate of Belleville High School West. She is the daughter of Dr. Robert and Barbara Wanless, Belleville, Ill.
# # #
---