March 8, 2001

Contact: Adam Levin
Phone: (207) 786-6411
FOR IMMEDIATE RELEASE
HILDEBRAND, ROGERS NAMED ALL-AMERICANS
AT NCAA SKIING CHAMPIONSHIPS
Bobcats improve to 13th in standings
RIPTON, Vt. Ð Bates College junior Kyle Hildebrand of Waitsfield, Vt., and sophomore Kim Rogers of Charlestown, Mass., each earned All-America status today by placing among the top 10 finishers in the giant slalom event at the NCAA skiing championships hosted by Middlebury College at the Middlebury Snow Bowl.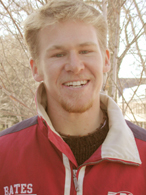 Hildebrand became Bates' first alpine skiing two-time All-American by finishing sixth in the giant slalom. His combined two-run time of 2:01.57 was just .06 out of fifth place. Hildebrand's previous All-America performance came with a seventh-place finish in the slalom in 1999 when Bates hosted the championships at Sunday River.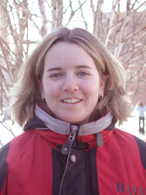 Rogers is Bates' first-ever female alpine All-American. She placed 10th in the event with a two-run time of 2:08.25. This marked Rogers' eighth top-10 performance of the season. Bates senior captain Janel Ippolito of Rumford Point, Maine, also competed in the GS today, but fell during her second run and did not finish.


With today's performance the Bobcats improved to 13th place place among the 22 teams at the NCAA championships, up from 17th after Day 1 of the event. Bates has 87 points, 5.5 points ahead of Western State College. The University of Denver holds a 59.5 point advantage atop the standings over Utah.
In the women's giant slalom, the University of Vermont was on its way to a sweep before Shaina Mulkern, the first run leader, suffered a fall during the second run. Erica MacConnell, who placed second in '99 won the crown with a time of 2:06.32. Placing second was teammate Alexandra Krebs in 2:06.43, followed by Denver's Cecilie Hagen Larsen in third (2:06.47), Alaska-Anchorage's Erika Hansson in fourth (2:07.08) and Marte Dolva of New Mexico in fifth (2:07.13).
In the men's giant slalom, Vermont again skied well, boasting the winner and the second place finisher. John Minahan won the event with a time of 1:59.52, while defending National Champion Matthew Knittle placed third in 2:00.77. In second place was Colorado's Chad Wolk in 2:00.34, followed by Kevin Stell of Colorado in fourth (2:00.84) and Fredrik Steen of New Mexico in fifth (2:01.51)
Action continues tomorrow with the 15 and 20-kilometer Nordic freestyle races at the Rikert Ski Touring Center.
Full results from the NCAA Skiing Championships are available here, courtesty Middlebury College.
# # #
---