May 24-26, 2001

Contact: Adam Levin
Phone: (207) 786-6411
FOR IMMEDIATE RELEASE
SAWLER, EASTER, ANTHONY EARN ALL-AMERICA HONORS
LEWISTON, Maine — Bates College junior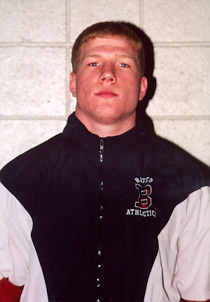 Jaime Sawler of Stratham, N.H., became the third Bobcat to earn All-America honors at the NCAA Division III Track and Field Championships at Milliken University in Decatur, Ill., today.
Sawler placed fourth in the hammer throw with a throw of 179 feet, nine inches. Sawler won the second flight of competition to reach the finals. The All-America award is the first of his career in two NCAA championships appearances. He placed ninth in the 35-pound weight throw at the 2001 indoor championships. Sawler earned the 21st All-America honor by an athlete coached by Bates throwing coach Joe Woodhead.

Sophomore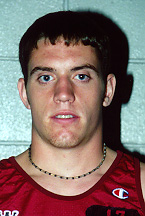 Justin Easter of Jay, Maine, earned his second career All-America honor, placing third in the 3,000-meter steeplechase on Friday. Ranked fourth in the nation entering the championships, Easter set a school record with his lifetime best performance of 8:58.64, becoming the first Bobcat to break the nine-minute barrier in the process. Easter was the top underclassman in the race and the second finisher from New England behind event champion David Patterson from Tufts. Easter, who has appeared in six NCAA championships in two years at Bates, won his first All-America honor in the steeplechase in 2000, when he placed seventh.
Sophomore Abigail Anthony of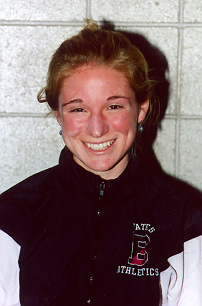 Jamestown, R.I., earned her second career All-America honor, placing sixth in the 10,000-meter run on the first day of competition
Anthony was the top finisher from New England with a time of 36:35.18, the second-best time of her career. Her first All-America honor came in 2000, when she also placed sixth in the 10,000-meters.
Two other Bobcat athletes narrowly missed out on All-America honors at the championships. Junior Greg Hurley of Arlington, Mass., finished 10th in the hammer throw with a heave of 167-6. Hurley was the top performer who did not reach the finals, missing by four feet. Senior Erik Zwick of Virginia Beach, Va., missed the finals of the 400-meter dash by .09 seconds with a time of 47.98 seconds, a lifetime-best. The preliminaries races in the 400 had some of the fastest times in meet history as all eight finalists record times under 48 seconds for the first time ever.
With 11 points, the Bates men finished in a tie for 20th place in the team standings out of 74 schools that scored points, matching the Bobcats' second-best finish ever. Bates was fifth among teams from New England. Anthony's three team points helped the Bates women finish in a tie for 57th place of 72 teams that scored points, eighth among New England teams.






NCAA DIVISION III MEN'S TRACK AND FIELD CHAMPIONSHIPS
Milliken University
Decatur, Ill.
Hammer Throw
Round 1, Flight 1
1 Ryan Dirks, Sr, Pacific Lutheran         185-11 (56.66m)q
2 James Hammond, Sr, WPI                   185-2 (56.44m)q
3 Josh Black, Sr, RPI                      179-0 (54.56m)q
4 Mike Koenning, Sr, Wisc-La Crosse        176-2 (53.70m)q
5 Hank Benedict, Jr, Wilmington            172-8 (52.64m)q
6 Noah Eschenbach, So, Wisc-Stevens Pt     172-8 (52.62m)q
7 Ari Polychronopoulos, Sr, Pomona-Pitzer  166-1 (50.62m) 
  Christopher Khan, Fr, MIT                  ND

Round 1, Flight 2
1 Jaime Sawler, Jr, Bates College    179-9 (54.78m)q
2 Bill Monette, Sr, Rensselaer Poly Inst   176-8 (53.84m)q
3 Dave Hahn, Sr, Wisc-Platteville          174-2 (53.10m)q
4 Greg Hurley, Jr, Bates College     167-6 (51.06m) 
5 Aaron Rubin, Jr, ClaremontMuddScripps    167-4 (51.00m) 
6 Marios Michalakis, Fr, MIT               162-9 (49.62m) 
7 Luke Hilgers, Jr, Wisc-Stevens Pt        161-6 (49.24m) 
8 LeAndrew Rankin, So, Colby College       155-2 (47.30m) 

Final
1 Mike Koenning, Sr, Wisc-La Crosse        192-7 (58.70m) 
2 Ryan Dirks, Sr, Pacific Lutheran         185-11 (56.66m) 
3 James Hammond, Sr, WPI                   185-2 (56.44m) 
4 Jaime Sawler, Jr, Bates College    179-9 (54.78m)             
5 Josh Black, Sr, RPI                      179-0 (54.56m) 
6 Bill Monette, Sr, RPI                    176-8 (53.84m) 
7 Dave Hahn, Sr, Wisc-Platteville          174-2 (53.10m) 
8 Hank Benedict, Jr, Wilmington College    172-8 (52.64m) 
9 Noah Eschenbach, So, Wisc-Stevens Pt     172-8 (52.62m) 

400 Meter Dash
Round 1, Heat 1
1 Andrew Rock, Fr, Wisc-La Crosse	    47.02Q          
2 Craig Gunderson, Jr, Wisc-Stevens Pt   47.68q
3 Adam McKahan, So, Wisc-La Crosse       47.70q          
4 Britton Johnson, Sr, Albion College    48.33           
5 Derrick Freeman, Fr, Lincoln Univ.     48.37           
6 Darryl Louis, So, Montclair State      48.71           

Round 1, Heat 2
1 Milton Williams, Fr, Lincoln Univ.     47.85Q          
2 Jeremy Heckman, Sr, Univ of St. Thomas 47.89q          
3 Kevin Smith, Sr, Lynchburg College     48.05           
4 O'Neil Smiley, Jr, York College (N Y)  48.23           
5 Erik Benson, Fr, Wheaton College (Ma)  48.44           
6 Chavaun Johnson, So, Dickinson College 49.29           

Round 1, Heat 3
1 Ben Dreyer, So, St. Norbert College    47.25Q          
2 Phil Sikkenga, Sr, Calvin College      47.46q          
3 Steve Mitchell, Sr, Lincoln University 47.88q          
4 Erik Zwick, Sr, Bates College     47.98           
5 Johnny Harris, Jr, Lynchburg College   48.11           
6 Adam Hartford, Sr, Central Coll (Ia)   50.58           

Final
1 Ben Dreyer, So, St. Norbert College    46.51
2 Andrew Rock, Fr, Wisc-La Crosse        46.52
3 Phil Sikkenga, Sr, Calvin College      47.57           
4 Milton Williams, Fr, Lincoln Univ      47.77           
5 Craig Gunderson, Jr, Wisc-Stevens Pt   48.10           
6 Steve Mitchell, Sr, Lincoln Univ       48.18           
7 Adam McKahan, So, Wisc-La Crosse       48.46           
8 Jeremy Heckman, Sr, Univ of St. Thomas 48.68     


3000m Steeplechase
1 David Patterson, Sr, Tufts            8:53.74           
2 Ross Substad, Sr, Wisc.-La Crosse     8:57.18           
3 Justin Easter, So, Bates College   8:58.64           
4 Shane Suehring, Sr, Wis.-Stevens Pt   9:01.60           
5 John Aerni, Sr, Grinnell College      9:08.36           
6 Karl Remsen, So, Williams College     9:08.50           
7 Willie Stroever, Jr, Haverford Coll   9:10.63           
8 Ryan Reed, Jr, Pacific Lutheran       9:13.79           
9 Adam Boardman, Sr, Pomona-Pitzer      9:14.20           
10 Zac Freudenburg, Sr, Beloit College  9:14.82           
11 Jeremy Borling, Jr, North Central    9:17.52           
12 Joe Hughes, So, Wartburg College     9:20.12           
13 Tim Campbell, Sr, Williams College   9:24.03           
14 David Ritsema, Jr, Calvin College    9:26.45           
15 Michael Watts, So, Anderson (Indiana)9:37.22           
16 Jimmy Steinemann, Jr, Haverford      9:41.30   

TEAM SCORES
Scored 10-8-6-5-4-3-2-1
1     Wisconsin La Crosse    80.0 
2     Lincoln University     60.0 
3=    Frostburg State        34.0 
3=    Wisconsin Stevens Pt   34.0 
5     Calvin College         31.5 
6     Central College (Ia)   28.0 
7=    Wheaton College (Ma)   24.0 
7=    Williams College       24.0 
9     Wisconsin Whitewater   21.0 
10    Christopher Newport    19.0 
11    Mass Inst Technology   18.0 
12    Nebraska Wesleyan      17.0 
13    John Carroll           16.0 
14=   Carroll College (Wi)   15.0 
14=   Wisconsin Oshkosh      15.0 
16    Monmouth College (Il)  14.5 
17    Mary Washington        14.0 
18    Worcester State        13.0 
19    Wartburg College       12.0 
20=  Bates College       11.0 
20=   Luther College         11.0 
22    University of Dubuque  10.5 
23=   Cortland S U N Y       10.0 
23=   Haverford College      10.0 
23=   Keene State College    10.0 
23=   North Central College  10.0 
23=   St. Norbert College    10.0 
23=   Tufts University       10.0 
29=   Greenville College      9.0 
29=   Pacific Lutheran        9.0 
31=   Allegheny College       8.0 
31=   Coe College             8.0 
31=   Heidelberg College      8.0 
31=   Mount Union College     8.0 
31=   Rensselaer Poly Inst    8.0 
31=   Ursinus College         8.0 
31=   William Paterson        8.0 
31=   Wisconsin Stout         8.0 
39=   Lynchburg College       7.0 
39=   Swarthmore College      7.0 
41    Ohio Wesleyan           6.5 
42=   Geneseo S U N Y         6.0 
42=   Linfield College        6.0 
42=   McMurry University      6.0 
42=   Middlebury College      6.0 
42=   Richard Stockton N J    6.0 
42=   Rowan University        6.0 
42=   St. Olaf College        6.0 
42=   SusquehannaUniversity   6.0 
42=   Widener University      6.0 
42=   Wisconsin Eau Claire    6.0
42=   Worcester Poly Inst     6.0 
53=   Emory University        5.0 
53=   Messiah College         5.0 
53=   College of New Jersey   5.0 
53=   Rose-Hulman Inst Tech   5.0 
53=   Wisconsin Platteville   5.0 
58=   Grinnell College        4.0 
58=   Hope College            4.0 
58=   Loras College           4.0 
58=   Univ of St. Thomas      4.0 
62    Augustana (Illinois)    3.5 
63=   ClaremontMuddScripps    3.0 
63=   Albion College          3.0 
65=   Anderson (Indiana)      2.0 
65=   Carthage College        2.0 
65=   Montclair State         2.0 
65=   Rutgers Camden          2.0 
65=   St. Lawrence            2.0 
65=   Trinity College (Ct)    2.0 
65=   Whittier College        2.0 
72    Wilmington College      1.5 
73=   Gustavus Adolphus       1.0 
73=   Sul Ross State          1.0

NCAA DIVISION III WOMEN'S TRACK AND FIELD CHAMPIONSHIPS

10000 Meter Run
1 Casey Smith, Sr, Roanoke College      35:05.63           
2 Michelle Kelly, Sr, Cortland S U N Y  36:04.26           
3 Jokotade Agunloye, Sr, Swarthmore     36:15.08           
4 Becky Lebak, So, Wisc-Stevens Pt      36:21.54           
5 Mandy Miller, Sr, Ohio Northern       36:26.80           
6 Abigail Anthony, So, Bates         36:35.18           
7 Julia Bensen, So, Williams College    36:39.51           
8 Laura Bloedorn, So, Carleton College  36:41.26           
9 Sara Holewinski, Sr, Wisc-Oshkosh     36:42.95           
10 Kasie Wallace, Sr, Middlebury        36:49.95           
11 Melissa White, So, Geneseo S U N Y   36:50.97           
12 Lindsay Carrier, Jr, Calvin College  36:52.16           
13 Jane McDermott, Jr, Luther College   36:57.97           
14 Jessie Lair, Fr, Calvin College      36:59.05           
15 Emily Shertzer, Jr, Moravian         37:06.37           
16 Kristen Wilson, So, Haverford        37:17.51           
17 Michela Adrian, So, Middlebury       37:24.50           
18 Kate Nelson, Sr, Hamilton College    37:27.04           
19 Annie R. Scott, Sr, Whitworth        37:59.60           
20 Adrien Ricci, So, Elmhurst           38:30.50           
21 Jaime Tresemer, Sr, North Central    40:09.11
  



       TEAM SCORES
 1   Wheaton College (Ma)   83.5
   2   Calvin College         49.0
   3   Lincoln University     47.0
   4   McMurry University     42.0
   5   Williams College       38.0
   6   Wisconsin La Crosse    30.5
   7   Cortland S U N Y       27.0
   8   Middlebury College     22.0
   9   Wartburg College       21.0
  10   Keene State College    20.0
  11   Wisconsin Whitewater   19.0
  12   College of New Jersey  18.0
  13   Wisconsin Stevens Pt   17.0
 14=   Roanoke College        16.0
 14=   Rowan University       16.0
  16   Loras College          15.0
  17   Nebraska Wesleyan      13.5
 18=   Emory University       13.0
 18=   Monmouth College (Il)  13.0
 18=   Willamette University  13.0
 21=   Hamilton College       11.0
 21=   Pacific Lutheran       11.0
 23=   Carthage College       10.0
 23=   Eastern Mennonite      10.0
 23=   Grinnell College       10.0
 23=   Linfield College       10.0
 23=   Moravian College       10.0
 23=   Univ of St. Thomas     10.0
 23=   Trinity College (Ct)   10.0
  30   Wisconsin Eau Claire    9.5
 31=   Baldwin-Wallace         8.0
 31=   Christopher Newport     8.0
 31=   George Fox Univ         8.0
 31=   Ohio Wesleyan           8.0
 31=   Wisconsin Oshkosh       8.0
 36=   Univ of La Verne        7.0
 36=   Luther College          7.0
 36=   Swarthmore College      7.0
 39=   Beloit College          6.0
 39=   Carleton College        6.0
 39=   Fredonia S U N Y        6.0
 39=   Frostburg State         6.0
 39=   Gustavus Adolphus       6.0
 39=   New Jersey City U       6.0
 39=   Ohio Northern           6.0
 39=   Washington (Missouri)   6.0
 39=   Wisconsin Platteville   6.0
 39=   Wisconsin Stout         6.0
 49=   North Central College   5.0
 49=   Rhodes College          5.0
 51=   Brandeis University     4.0
 51=   ClaremontMuddScripps    4.0
 51=   Coe College             4.0
 51=   Hamline University      4.0
 51=   Montclair State         4.0
 51=   Tufts University        4.0
 57=   Bates College       3.0
 57=   Fisk University         3.0
 57=   Geneseo S U N Y         3.0
 57=   Hope College            3.0
 61=   Augustana (Illinois)    2.0
 61=   Central College (Ia)    2.0
 61=   Colby College           2.0
 61=   Haverford College       2.0
 61=   Ithaca College          2.0
 61=   Mass Inst Technology    2.0
 67=   Bridgewater (Virginia   1.0
 67=   Denison University      1.0
 67=   Illinois Wesleyan       1.0
 67=   Lehman College          1.0
 71=   Occidental College      0.5
 71=   St. Benedict            0.5

Complete results from the NCAA Division III Championships
# # #
---