Feb. 9, 2000

Contact: Adam Levin
Phone: (207) 786-6411
FOR IMMEDIATE RELEASE
ADAMS, BRISTOL SET SCHOOL RECORDS IN WEIGHT THROWS
LEWISTON, Maine -- Bates College seniors Lucas Adams of Nottingham, N.H., and Erika Bristol of Pittsfield, Mass., both set school records and improved their qualifying standards in their respective weight throws at the Feb. 5 Quad Cup track and field event at the Slovenski Indoor Track.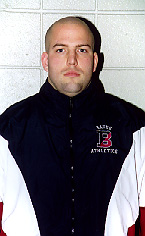 Adams, a two-time All-American in the 35-pound weight throw for the men, won his event with a throw of 64 feet, 2 inches, shattering the previous mark of 60-2 3/4 set by Peter Goodrich in 1989 by nearly four feet. Adams, who had already been provisionally qualified for the NCAA Division III Championships, reached the automatic standard with the best throw in the nation to date. A similar toss at the NCAA championships would have set a national Division III record. The throw could potentially have gone farther if not for a protective barrier for spectators.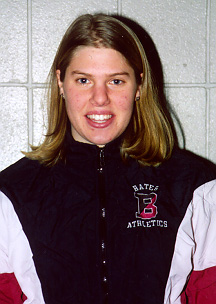 Bristol won the women's 20-pound weight throw with a heave of 48 feet, 9 1/2 inches. The toss broke the school record of 48-4 1/2, set by Candice Poiss in 1992. With the victory, Bristol improved her provisional qualifying mark for the NCAA Championships. She is now ranked seventh in the nation in the 20 pound weight. The school record was the second of the season for Bristol, who earlier this year broke the school mark in the shot put with a throw of 36 feet, two inches.

For more information on Bates Track and Field, visit the men's and women's track home pages.
# # #
---