Nov. 8, 1999

Contact: Adam Levin
Phone: (207) 786-6411
FOR IMMEDIATE RELEASE
SPECTOR NAMED NESCAC MEN'S SOCCER PLAYER OF THE WEEK
LEWISTON, Maine - Bates College sophomore goalkeeper Dan Spector of Framingham, Mass., was named New England Small College Athletic Conference (NESCAC) men's soccer Player of the Week for Nov. 8.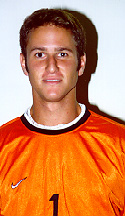 Spector made five saves in a 2-0 win against in-state rivals Southern Maine on Nov. 2 and three saves against Bowdoin College Nov. 6 in another 2-0 shutout. The shutouts were Spector's eighth and ninth of the season, giving him a new Bates College record, surpassing the record of six set in 1992 by Jay Ladieu '94. Spector and senior Emlen Harmon of So. Berwick, Maine, have also set school records with 10 total shutouts this year and five in a row, the Bobcats' current streak. With five straight wins, Bates has its longest such streak since 1986, while the 11 goals allowed are the fewest since 1968, when the Bobcats only played 11 games.
Bates will have a chance to extend all of their streaks on Nov. 10 when they play host to Tufts University in the first round of the Eastern College Athletic Conference (ECAC) Division III New England Tournament. The Jumbos and Bobcats played to a 0-0 draw on Oct. 2, the only deadlock the two teams have had all season.
Spector is a 1998 graduate of Framingham High School. He is the son of Kenneth and Sallyanne Spector, 100 Indian Head Road, Framingham, Mass.
Harmon is a 1996 graduate of Phillips Exeter Academy. He is the son of Thomas and Cheryl Harmon, So. Berwick, Maine. - 30 -
# # #
---