Oct. 4, 1999

Contact: Adam Levin
Phone: (207) 786-6411
FOR IMMEDIATE RELEASE
THREE BOBCATS NAMED NESCAC PLAYER OF THE WEEK
LEWISTON, Maine -- Three Bates College athletes have earned Player of the Week honors from the New England Small College Athletic Conference (NESCAC)
Senior forward Andy Apstein of Waban, Mass., was named NESCAC men's soccer player of the week for Oct. 3.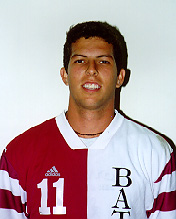 Apstein, a tri-captain, helped the Bobcats to a 1-0-1 week. On Sept. 29 against Plymouth State College, an NCAA tournament participant in 1998, Apstein scored two goals and an assist as the Bobcats defeated the Panthers, 4-0. Apstein picked up an assist on Bates's second goal of the game when fellow tri-captain Ted Martin of Excelsior, Minn., knocked home a rebound of Apstein's shot midway through the first half. Apstein scored two goals in the second half. The first came on a feed from Martin, who found Apstein open at the corner of the 18-yard line. Apstein dribbled the ball to just inside the box and ripped a left-footed shot that banked off the far post and in the net. His second goal came on a direct kick two minutes later, this time just outside the box, that Apstein drilled around the PSC wall and in.
In Bates' second game of the week, Oct. 2 against Tufts University, Apstein did not tally any points, but he was able to help keep a Jumbo offense that was averaging over four goals a game off the board. The Bobcats, ranked ninth in the most recent National Soccer Coaches' Association of America New England Division III poll, earned a scoreless tie with fourth-ranked Tufts.
With five points on the week, Apstein moved into fifth on Bates' all time scoring list with 54 points (20 goals, 14 assists), while his assist moved him into third place on Bates' all-time list. Apstein is tied for seventh in the NESCAC in scoring with eight points this season.
"Andy has been a tremendous two-way player this season," said George Purgavie, head coach of the 3-2-1 Bobcats. "He has worked very hard helping out on defense, but it was great to see him use his scoring touch."
Apstein shared the award with Tufts University senior Matt Adler.
Junior setter Kate Hagstrom of Portola, Calif., earned NESCAC volleyball player of the week for the second time this season.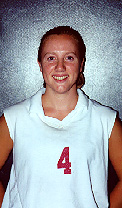 Hagstrom earned her second Most Valuable Player award of the campaign at the Bates College Invitational Oct. 1-2. The Bobcats, ranked second in the American Volleyball Coaches Association (AVCA) New England polls, won the tournament by defeating the University of Maine-Machias, sixth-ranked Middlebury College, fifth-ranked Williams College and No. 3 Springfield College, dropping just two games along the way.
Hagstrom earned her first career triple-double in the Bobcats' 15-17, 15-6, 15-10, 8-15, 15-7, victory over Williams in the tournament semifinals. She recorded 75 assists, 13 kills and 11 digs in the match. Hagstrom was a perfect 11-for-11 in attacks in the Bobcats' opening round victories against Maine-Machias and Middlebury. In 47 chances for the entire week, which also included a mid-week victory over in-state rival Bowdoin College, Hagstrom recorded 28 kills and just two errors for a .595 hitting percentage. She also had 16 service aces in 17 games. Her season average of 1.01 service aces per game was ranked ninth in NCAA Division III in the most recent statistical report. Hagstrom also leads the Bobcats with 10.28 assists per game this season (627 assists in 60 games played).
"Kate's play has been outstanding all year," said Tim Byram, first year coach of the 15-3 Bobcats. "I doubt we would be where we are without her."
Senior Jason Silva of Methuen, Mass., was named NESCAC football defensive player of the week for his performance on Saturday against Tufts University.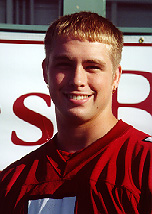 Silva, an outside linebacker, recorded 10 tackles (seven solo) in the Bobcats' 13-10 loss to the Jumbos. Of the 10 stops, three came for a cumulative loss of 20 yards, including one sack of Tufts quarterback Chris Fahy. In addition, Silva made his third career interception early in the third quarter. Silva stepped in front of a Fahy pass in the end zone to preserve the Bobcats' 7-0 lead.
The Bates defense was impressive as team, holding Tufts running back Renato Depaolis, who had rushed for 200 yards the week before, to just nine yards on 17 carries. After two games, the Bobcats are second in the NESCAC in points allowed (10.0 ppg) and yards allowed (426), while holding their opponents to 65 yards rushing per game.
Apstein is a 1996 graduate of Belmont Hill School. He is the son of Carl and Barbara Apstein, Waban, Mass.
Hagstrom is a 1997 graduate of Portola Jr./Sr. High School. She is the daughter of Jerrold and Julia Hagstrom, Jacksonville, Ore.
Silva is a 1996 graduate of Central Catholic High School. He is the son of Kenneth and Eileen Silva, Methuen, Mass.
# # #
---