Nov. 1, 1999

Contact: Adam Levin
Phone: (207) 786-6411
FOR IMMEDIATE RELEASE
ERICKSON, GUERRIERO NAMED BATES MALE ATHLETES OF THE WEEK
LEWISTON, Maine - Bates College senior running back Paul Erickson of Merrimac, Mass., and junior kicker Rejean Guerriero of Spofford, N.H., have been named Bates Male Athletes of the Week for their roles in the Bobcats' 20-17 overtime victory over in-state rival Colby College.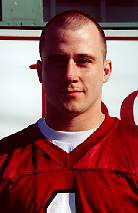 Erickson, who was also named the Offensive Player of the Week by the New England Small College Athletic Conference (NESCAC), carried the ball 27 times for 125 yards. His 44-yard scamper on Bates' second play from scrimmage, his longest rush of the season, set up the Bobcats' first touchdown three plays later. On Bates' fourth drive of the afternoon, Erickson scored his team-leading fourth touchdown of the season on a 32-yard screen pass. He also returned two Colby kickoffs for 49 yards, giving him 202 all-purpose yards on the day. Erickson is the Bobcats' leading rusher this season with 448 yards on 110 carries. He averages 74.7 yards rushing per game, fourth best in the NESCAC.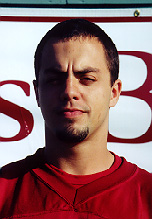 Guerriero provided the difference in Bates' third-straight won over their Colby-Bates-Bowdoin (CBB) rivals. After kicking a pair of extra points in the first quarter, Guerriero did not enter the game again until the fourth quarter. Trailing 20-14, Bates drove to the White Mules' 16-yard line. With 21 second remaining in regulation, Guerriero was called on to kick a 33-yard field goal to tie the score. After Colby called time out to try to ice him, Guerriero tied his season-long field goal, just clearing the cross bar.
In the first overtime period, the Bobcats drove 15 yards to the Colby 10-yard line before getting stopped. Guerriero nailed a 27-yard field goal to put Bates up, 20-17. While Colby reached the Bates nine-yard line on their first play of overtime, they were unable to get any closer before missing a 26-yard field goal that would have sent the game into a second extra stanza.
Guerriero leads the Bobcats in scoring this season with 27 points. He is nine-for-nine on extra points and six-for-eight on field goals, including three-of-four on attempts of 30 yards or longer.
The Bobcats, who are now 2-4, have recorded their first two-win season since 1990. They will try for their second win in a row against CBB foe Bowdoin on Nov. 6. A win in that game would give Bates their first outright CBB title since 1986 and their winningest season since 1985. Bowdoin enters the contest at 1-5.
# # #
---