Dec. 2, 1999

Contact: Adam Levin
Phone: (207) 786-6411
FOR IMMEDIATE RELEASE
HUBBARD NAMED DIVISION II/III ALL-NEW ENGLAND
LEWISTON, Maine -- Bates College senior linebacker Frost Hubbard of East Walpole, Mass., has been named to the New England Football Writers (NEFW) Division II/III All-New England team. Hubbard was recently named to the New England Small College Ahtletic Conference (NESCAC) All-Star team.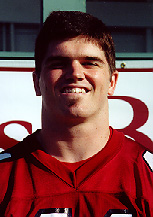 Hubbard, a co-captain, started all 32 Bates football games in the last four seasons at linebacker, finishing either first or second on the squad in tackles each year. In 1999, he topped the Bobcats with 69 tackles, the first time in his career he has had fewer than 90 tackles in a season. Hubbard led the team with 45 solo tackles. He also had 2.5 sacks for 16 yards and four other tackles for a loss. Hubbard forced a pair of fumbles and recovered another, while blocking one field goal and one extra point. He had a season high 15 tackles (10 solo) in Bates' 20-17 overtime win against Colby Oct. 30 and added another 10-tackle game against Williams Oct. 9. Hubbard ends his career second on Bates' all-time tackle list with 369. He is the first Bates player named to the NEFW All-Star team since another linebacker, Mike Holte '97, was honored in 1996.
In their second season under coach Mark Harriman, The Bobcats finished the 1999 season with a 4-4 record, their best since 1982. Harriman's four wins this season were one more than the Bobcats had won in the previous eight years combined. With Hubbard leading the defense, Bates ranked fourth in the New England Small College Athletic Conference (NESCAC) in total yards (2273) and points allowed (126), the best performances in more than a decade.
The Bobcats ended the season on a three-game winning streak, their longest since 1982. Over that stretch, the team outscored their opponents 86-24, while allowing just 221 yards per game on defense. With their win at Colby Oct. 30 and a 38-7 triumph over Bowdoin Nov. 6, the Bobcats won their first outright CBB crown since 1986, while their 28-0 shutout of Hamilton College Nov. 13 was their first since 1989.
"Frost is one of the best defensive players I have ever coached," said Harriman. "Opposing offenses geared their play calling to where Frost was on the field, and he still managed to lead the team in tackles."
# # #
---