Oct. 12, 1998

Release No. 225
Contact: Adam Levin
Phone: (207) 786-6411
FOR IMMEDIATE RELEASE
HUBBARD NAMED TO ECAC HONOR ROLL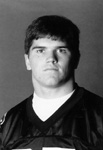 LEWISTON, Maine -- Bates College junior linebacker Frost Hubbard of Walpole, Mass., has been named to the ECAC Division III New England Honor Roll for the week of October 10.
In a 27-0 loss to Williams, Hubbard totaled 20 tackles, 13 of which were unassisted. Hubbard leads the Bobcats through three games in tackles with 36, and is second in unassisted tackles with 16. He was the 1996 NESCAC Defensive Rookie of the Year and last year lead the team in with tackles.
Bates (0-3) enters its Week Four matchup with Wesleyan (3-0), having struggled on offense. So far, the Bobcats have only six points in three losses. The defense has been strong in all three losses, allowing Amherst's offense only 13 points in week one, and holding Tufts to a 21 point output before this week's loss to perennial NESCAC power Williams.
# # #
---