Dec. 1, 1999

Contact: Adam Levin
Phone: (207) 786-6411
FOR IMMEDIATE RELEASE
BATES PLACES FIVE ON ALL-NESCAC FOOTBALL SQUAD
LEWISTON, Maine - The winningest Bates College football team in 17 years has been honored with five members on the 1999 New England Small College Athletic Conference (NESCAC) All-Star team, the most Bobcats on the team since it was first selected in 1984. The five Bates players are senior offensive lineman Lucas Adams of Nottingham, N.H.; senior wide receiver Jason Coulie of Manchester, N.H.; junior defensive lineman Ryan Gray of Mansfield, Mass.; junior kicker Rejean Guerriero of Spofford, N.H.; and senior linebacker Frost Hubbard of East Walpole, Mass.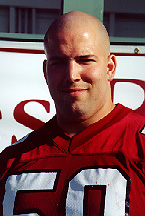 Lucas Adams started all eight games for the Bobcats at right guard. A three-time All-American in the 35-pound weight and hammer throws for the Bates track and field team, Adams helped the Bates offense average 350.5 yards of total offense and 164.0 rushing yards per game, both the highest output at Bates since 1987. The Bobcats also allowed just 15 sacks in eight games, their lowest total in the 1990s.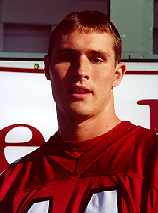 Jason Coulie has been named All-NESCAC for the third time in 1999, also earning the honor in baseball and track and field. Coulie set Bates' single-season records for receptions (63) and receiving yards (852) in a season. Coulie also set a school record for longest pass reception with his 84-yard touchdown catch against Hamilton College Nov. 13 and tied a school record when he caught 12 passes against Wesleyan University Oct. 16. Coulie was third in the NESCAC and 11th in NCAA Division III play with 7.9 receptions per game. His 108.2 receiving yards per game were 19th in the NCAA. Coulie ranks second on Bates' all-time list for pass receptions (163) and receiving yards (1836) despite a season-ending injury on his first play from scrimmage as a rookie.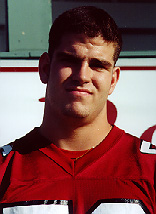 Ryan Gray is one of the top pass rushers in the conference. He has led the Bobcats in sacks for each of the past two seasons. In 1999, he recorded 7.5 sacks for a total loss of 57 yards. Gray was eight on the team with 36 tackles (26 solo). He also forced one fumble and broke up one pass. Gray's best performance of the season came in the Bobcats' 38-7 win over Bowdoin College Nov. 6. In that game, Gray had three sacks for a loss of 35 yards and forced a fumble as Bates won the Colby-Bates-Bowdoin (CBB) conference for the first time since 1985. Of Gray's 100 career tackles, 24 are for a loss, including 15 sacks for a total of 117 yards.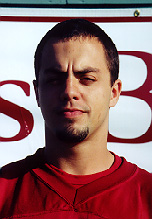 Rejean Guerriero led the Bobcats in scoring with 39 points in 1999, the second-highest single-season total for a kicker at Bates. Guerriero was perfect on extra points (18-18) and hit 70 percent of his field goals this season (7-10), both school record-setting percentages. Guerriero booted three 33-yard field goals this season, the biggest coming with 12 seconds left in regulation against CBB foe Colby to send the game into overtime, where his 27 yarder clinched the game on the Bobcats' first possession of the extra frame.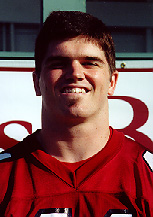 Frost Hubbard has started all 32 of Bates' games in the last four seasons at linebacker, finishing either first or second on the squad in tackles each year. In 1999, he topped the team with 69 tackles, the first time in his career he has had fewer than 90 tackles in a season. Hubbard, a co captain, led the team with 45 solo tackles. He also had 2.5 sacks for 16 yards and four other tackles for a loss. Hubbard forced a pair of fumbles and recovered another, while blocking one field goal and one extra point. He had a season-high 15 tackles (10 solo) against Colby and added another 10-tackle game against Williams Oct. 9. Hubbard ends his career second on Bates' all time tackle list with 369.

In their second season under coach Mark Harriman, The Bobcats finished the 1999 season with a 4-4 record, their best since 1982. Harriman's four wins this season were one more than the Bobcats had won in the previous eight years combined. Bates was third in the NESCAC in total yards gained (2804) and tied for third in points scored (163), while ranking fourth in total yards allowed (2273) and points allowed (126), all the best performances in more than a decade.

1999 NESCAC FOOTBALL ALL-STAR TEAM
& PLAYERS OF THE YEAR

OFFENSIVE MVP: Sean Keenan, Senior, QB, Williams
DEFENSIVE MVP: Andy Steele, Jr., LB, Middlebury

OFFENSIVE ROOKIE OF THE YEAR: Brian Fabrizio, RB, Trinity
DEFENSIVE ROOKIE OF THE YEAR: Mike Moran, LB, Colby

OFFENSE

QB - Jake Fay, Senior, Wesleyan
RB - Bryan Sanchez, Junior, Middlebury; Fred Storz, Junior, Williams
WR - Matt Perceval, Senior, Wesleyan; Jon Troy, Senior, Tufts; Jason
Coulie, Senior, Bates
TE - Zac Campbell, Junior, Middlebury
OL - Wyeth Lynch, Senior, Williams; Bill Polin, Senior, Colby; Mo Glynn,
Senior, Tufts; Brian Blanchard, Senior, Trinity; Lucas Adams, Senior,
Bates
PK - Rejean Guerriero, Junior, Bates
KR - Brian Holmes, Junior, Tufts

DEFENSE
DL - Chris Sweatman, Senior, Williams; Gerry Topping, Senior, Tufts; Ron
Thomas, Junior, Hamilton; Greg O'Niell, Senior, Amherst; Ryan Gray,
Junior, Bates
LB - Brian LaHaie, Senior, Trinity; Louis Moll, Junior, Williams; Frost
Hubbard, Senior, Bates; Terry Sears, Senior, Wesleyan
DB - Steve Cella, Sophomore, Trinity; Brian Holmes, Junior, Tufts; Darren
Ireland, Senior, Colby; Tom Connelly, Junior, Bowdoin
P - Mark Olschefskie, Senior, Wesleyan

# # #
---