Nov. 12, 1999

Release No. 233
Contact: Adam Levin
Phone: (207) 786-6411
FOR IMMEDIATE RELEASE
FICKS, FARRAR NAMED TO NFHCA REGIONAL ALL-AMERICA TEAMS
LEWISTON, Maine -- Junior goalkeeper Peggy Ficks of Washington, Conn., and first-year forward Johie Farrar of West Paris, Maine, have both been named New England West Regional All-Americans by the National Field Hockey Coaches Association (NFHCA).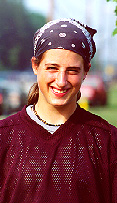 Ficks, who was named a first-team regional All-American, started every game for the Bobcats, playing 96 percent of Bates' minutes. She allowed 15 goals in 1,401 minutes a 1.01 goals-against average, lowest in school history. She made 123 saves for an .891 save percentage, posting four shutouts (two solo, two combined). Bates allowed 15 goals in 1999, the fewest in any season since 1983. Ficks earned New England Small College Athletic Conference (NESCAC) Player of the Week honors Sept. 27 for her back-to-back shutouts of Trinity College and Keene State College. She has 12 career shutouts and a 1.37 career goals-against average.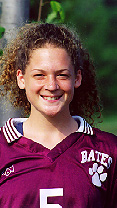 Farrar was named second-team regional All-America. She played in all of Bates' 15 games, starting 12 of them. Farrar tied for the team lead with nine goals and was second on the team with 18 points. She posted a pair of multiple-goal games this season, notching a hat trick against Simmons College Oct. 12 and scoring both goals in a 2-0 shutout against Keene State College on Sept. 26. Farrar's nine goals this season, tied with sophomore forward Ginny Hurley of Revere, Mass., was the highest single-season output at Bates in the 1990s. The Bobcats scored 37 goals this year, the most since 1982.

Under second-year head coach Wynn Hohlt, the Bates College field hockey team posted an 11-4 record, the most wins in a single season at Bates since going 12-2-2 in 1982. The Bobcats earned the top seed in the Eastern College Athletic Conference (ECAC) in just their second berth ever to the tournament, before being upset in the first round. The Bobcats have all but two starters returning next season, including their top five scorers.
"This was an exciting season for us, with so many talented, young players," Hohlt said. "Peg was the backbone of the defense. She kept us alive in so many close games and gave us a chance to win. Johie had a great rookie season. If she and her teammates continue to progress as much as they did from the start to the end of this season, Bates will be stay among the top teams in the region for a long time to come."
Ficks is a 1997 graduate of The Taft School. She is the daughter of Robert and Ann Ficks, Washington, Conn.
Farrar is a 1999 graduate of Oxford Hills High School. She is the daughter of Timothy and Beverly Farrar, West Paris, Maine.
# # #
---