Nov. 18, 1999

Release No. 233
Contact: Adam Levin
Phone: (207) 786-6411
FOR IMMEDIATE RELEASE
FICKS EARNS THIRD-TEAM ALL-AMERICA HONORS
LEWISTON, Maine -- Junior goalkeeper Peggy Ficks of Washington, Conn., has been named a third-team All-American by the National Field Hockey Coaches Association (NFHCA).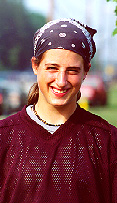 Ficks, who was named a first-team regional All-American Nov. 11, started every game for the Bobcats, playing 96 percent of Bates' minutes. She allowed 15 goals in 1,401 minutes for a 1.01 goals-against average, lowest in school history. She made 123 saves for an .891 save percentage, posting four shutouts (two solo, two combined). Bates allowed 15 goals in 1999, the fewest in any season since 1983. Ficks earned New England Small College Athletic Conference (NESCAC) Player of the Week honors Sept. 27 for her back-to-back shutouts of Trinity College and Keene State College. She has 12 career shutouts and a 1.37 career goals-against average. Ficks is the fourth woman in Bates field hockey history to be named to an All-America team. She is the second goalkeeper so honored, joining Piep Van Heuven '88, also the most recent Bobcat All-American before Ficks.
Under second-year head coach Wynn Hohlt, the Bates College field hockey team posted an 11-4 record, the most wins in a single season at Bates since going 12-2-2 in 1982. The Bobcats earned the top seed in the Eastern College Athletic Conference (ECAC), just their second berth ever in the tournament, before being upset in the first round. The Bobcats have all but two starters returning in 2000, including their top five scorers.
"This is a wonderful honor for Peggy," said Hohlt. "She worked very hard this season and was a key factor in our success."
Ficks is a 1997 graduate of The Taft School. She is the daughter of Robert and Ann Ficks, 80 Greenhill Rd., Washington, Conn.
Click here for the full NFHCA All-America Team
# # #
---