Sept. 30, 1999

Contact: Adam Levin
Phone: (207) 786-6411
FOR IMMEDIATE RELEASE
COULIE, COLLINS NAMED BATES MALE ATHLETES OF THE WEEK
LEWISTON, Maine -- For helping the Bates football team to a 19-7 victory over Amherst College in the opening week of the season, senior wide receiver Jason Coulie of Manchester, N.H., and junior defensive back Pat Collins of Walpole, Mass., have been named Bates Male Athletes of the Week.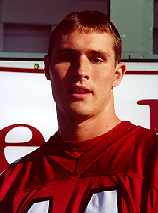 Coulie was the Bobcats' top offensive performer on the afternoon. He caught six passes for 140 yards. Coulie's second reception of the game came on the first play of the second quarter. With the Bobcats leading, 3-0, senior quarterback Matt Bazirgan of Newbury, Mass., found Coulie wide open behind the coverage, and Coulie responded with a career-long 76-yard reception for a touchdown. His 140 yards receiveing were first in NESCAC, while his six receptions were third. Coulie was named to the ECAC Honor Roll for his performance.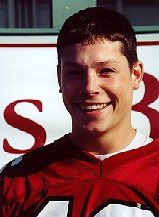 Collins played a key role on defense, intercepting two passes and making three tackles. Bates took a 13-0 lead after Collins returned an interception to the Amherst 31-yard line, setting up a 33-yard field goal. With 6:10 remaining in the game, Collins intercepted a Peter Honig pass at the Amherst 45-yard line to seal the outcome. The Bates defense held Amherst to 201 yards of total offense. Amherst converted only one out of 18 third downs, and turned the ball over three times on the afternoon. The Bobcats held an oppenent to under ten points for just the fourth time this decade.
Coulie is a 1996 graduate of Manchester Central High School. He is the son of Claire Coulie, Manchester, N.H.
Collins is a 1996 graduate of Walpole High School. He is the son of Timothy and Mary Collins, Walpole, Mass.
Bazirgan is a 1996 graduate of Triton Regional High School. He is the son of Richard and Doris Bazirgan, Newbury, Mass.
# # #
---