Nov. 8, 1999

Contact: Adam Levin
Phone: (207) 786-6411
FOR IMMEDIATE RELEASE
ATKINS NAMED NESCAC FOOTBALL ROOKIE OF THE WEEK
LEWISTON, Maine - Bates College first-year running back Sean Atkins of New York, N.Y., was named New England Small College Athletic Conference (NESCAC) Rookie of the Week for his performance in the Bobcats' 38-7 victory over conference rival Bowdoin on Nov. 6.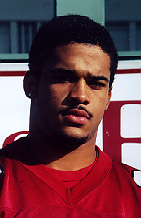 Atkins, a six-foot-two, 220-pound short-yardage specialist, carried the ball just six times for 18 yards against the Polar Bears, but he made his touches count, scoring three touchdowns. Atkins scored from three yards out on his first carry of the day, late in the first quarter, to put Bates ahead, 7 0. His second rush of the game was a one-yard scoring leap with 13 seconds left in the first half to give the Bobcats a 17-0 lead. His two two-yard carries on the first possession of the second half gave Bates a commanding 24 0 advantage. Atkins' three touchdowns on the day were the most since P.J. McGrail '98 scored three times against Bowdoin in 1995, also the last time Bates defeated the Polar Bears.
For the season, Atkins has played in five games for the Bobcats. He has 96 yards on 24 carries and the three scores. Atkins is tied for the team lead with 3.9 yards per carry. He is fourth on the team with 18.8 yards per game.
Bates' win gave the Bobcats (3-4) their first Colby-Bates-Bowdoin (CBB) series championship since 1986. Their three wins in the season is the most since 1985. With a win at Hamilton (0-7) on Nov. 13, the Bobcats would finish at .500 for the first time since 1982, snapping a streak of 17-straight losing seasons. Coach Mark Harriman, in his second year at the helm of the Bobcats, has won more games (4) in his tenure than the program had in the rest of the 1990s combined.
"Sean did a great job on Saturday," Harriman said. "With two seniors ahead of him on the depth chart, the kind of experience he is gaining will really benefit him when he steps into a larger role next year.
Atkins is a 1999 graduate of Darlington School, Rome, Ga. He is the son of Keith Atkins, New York, N.Y.
# # #
---