Nov. 15, 1999

Contact: Adam Levin
Phone: (207) 786-6411
FOR IMMEDIATE RELEASE
THREE BATES SOCCER ATHLETES EARN ALL-NESCAC HONORS
LEWISTON, Maine -- Senior soccer players Andy Apstein of Waban, Mass., Kate O'Malley of Deephaven, Minn. and Jolene Thurston of Post Mills, Vt. of Bates College have all been honored as first-team All-Conference selections by the New England Small College Athletic Conference (NESCAC).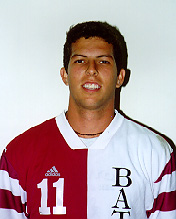 Apstein, a forward, led the Bobcats to a 9-5-1 record and their second straight postseason berth. He led the team with eight assists and 22 points, both career-highs, while finishing second on the squad with seven goals. Apstein finished his second on Bates' all-time career lists for assists (18) and points scored (68), while tying for second with 25 goals. He scored at least one point in 12 of the Bobcats' 15 games this season, including two-goal games against Plymouth State College Sept. 29 and Springfield College Oct. 16, the sixth and seventh multi-goal games of his career. Apstein also registered two assists against Gordon College Oct. 5. In his four seasons at Bates, the Bobcats posted a cumulative record of 35-22-3 and reached the ECAC Division III New England championships three times.
"Andy has been one of the backbones of our team for the past four seasons," said head coach George Purgavie. "The speed and skill he possesses makes him one of the most dangerous forwards in the league. He definitely deserves this recognition."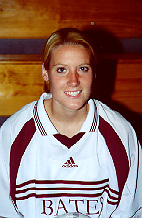 For O'Malley this is the third time in four years that she has been named All-NESCAC. She was fifth in the league at the end of the regular season in scoring with 10 goals and five assists for 25 points, marking the fourth time she has finished among the top 10 in the league in scoring. O'Malley finishes her career as the Bobcats' all-time leader with 50 goals and 122 points. O'Malley surpassed Bethany Maitland '89 on the all-time points list with a pair of goals Oct. 26, while becoming the all-time goals leader in the Bobcats' next game Oct. 30 at Colby. O'Malley will take part in the New England Women's Intercollegiate Soccer Association (NEWISA) all-star game that pits the region's top seniors from Division I, II and III on Saturday, Nov. 20 at Boston University.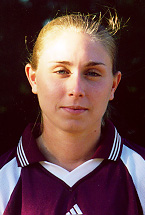 Thurston earns her first All-NESCAC bid in soccer despite missing the first five games of the season with an injury. Thurston, who earned All Conference honors as a guard last winter playing for the Bates women's basketball team, quickly rose to second on the Bobcats in scoring by posting five goals in a span of three games in late October, scoring twice against the University of New England Oct. 18 in Bates' 4-0 win and again Oct. 20 in a 3-2 overtime loss to Bowdoin College Thurston also scored the winning goals in a drama against NESCAC foe Connecticut College. She finished ninth on Bates' all-time scoring list with 15 goals and 15 assists for 45 points.
Bates finished the 1999 campaign with a 8-6-1 record, earning their fourth straight postseason berth. The Bobcats reached the ECAC tournament for the second year in a row, but were unable to defend their 1998 championship.
"As senior co-captains, Kate and Jolene mean a lot to this program," said coach Jim Murphy '69. "Beyond the scoring that you see in the statistics, the leadership they provided this year and over the course of their careers has been vital."
Apstein is a 1996 graduate of Belmont Hill School. He is the son of Carl and Barbara Apstein of Waban, Mass.
O'Malley is a 1996 graduate of Minnetonka High School. She is the daughter of Charles and Mary Jane O'Malley of Deephaven, Minn.
Thurston is a 1996 graduate of Thetford Academy. She is the daughter of Elwood and Darlene Thurston, Post Mills, Vt.
# # #
---