Bates College Football Coaching Staff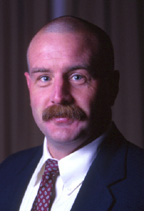 Mark Harriman (mharrima@bates.edu ) is the 19th head coach in the 105-year history of the Bates College football program. A Westbrook, Maine, native, Harriman was the defensive coordinator at Harvard for four seasons before arriving at Bates. The 1997 Crimson was the only Division I-AA team ranked in the top five in rushing defense, pass-efficiency defense and scoring defense, helping produce Harvard's first undefeated Ivy League title. Harriman's efforts earned him American Football Quarterly's 1997 Division I-AA defensive coordinator of the year honors. Prior to his stint at Harvard, his defense helped Princeton win two Ivy League titles in three years. A 1980 graduate of Springfield College, Harriman was an All-New England linebacker.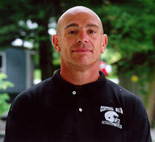 Skip Capone enters his fourth season as the offensive line coach for the Bobcats. Prior to arriving at Bates, Skip was the head coach at Lewiston High School where he led the Blue Devils to two state Class A championships. Skip is also the director of the Central Maine Football camps. His recruiting areas are Maine, New Hampshire and Vermont. Skip resides in Auburn with his wife Marie and two children Krysta and Matt.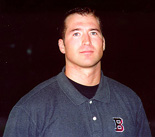 Jason Desjarlais begins his first season at Bates. He will handle the defensive line and coordinate the strength and conditioning program. Jason joins the Bobcats after serving as the defensive line coach at the University of San Diego. Prior to his stint at USD, he also coached the defensive line at both Humboldt State and Western Montana. A 1997 graduate of Western Montana, Jason was a two time All - American defensive lineman. His recruiting areas include Western Massachusetts, Connecticut, New York State and Pennsylvania. Jason is single and resides in Lewiston.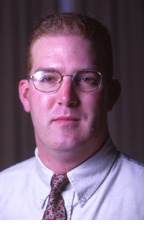 Craig Vandersea is the third-year coach of running backs and special teams. He is a 1990 graduate of Brunswick (Maine) High School, where he was a three-sport standout, earning All-State honors as a junior and senior. A 1995 graduate of the University of Rhode Island, where he played varsity football for four years, Craig was an assistant baseball and football coach at Norwich University and a football assistant under his father, Howard, at Bowdoin before joining the Bates staff as running backs coach. He is also the Bobcats' head baseball coach. Craig and his wife Nicole reside in Lewiston.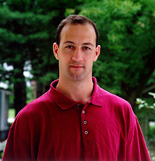 Jeff Vartabedian serves as the Bobcats' offensive coordinator and quarterbacks coach. In the spring he assists with the men's lacrosse team. Before coming to Bates Jeff had stops at Cortland State, where the team qualified for the 1997 NCAA playoffs, Trinity College and Princeton University, where the Tigers won the Ivy League championship in 1995. Jeff is a graduate of Springfield College. He also earned his Masters degree at Springfield while serving as an assistant coach. His recruiting area is eastern Massachusetts. Jeff resides in Lewiston with his wife Danielle who is expecting their first child.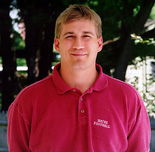 Steve Vashel starts his second season as the defensive backfield coach and his first as the defensive coordinator. He began his coaching career at Trinity College then returned to Springfield, earning his Master's degree and serving as an assistant coach. Steve joined the Harvard University staff as outside linebackers coach before moving to King's College where he directed the defensive backfield and was the head freshman coach. His recruiting areas are central Massachusetts, New York City and New Jersey. Steve resides in Lewiston with his wife Cathy.

---